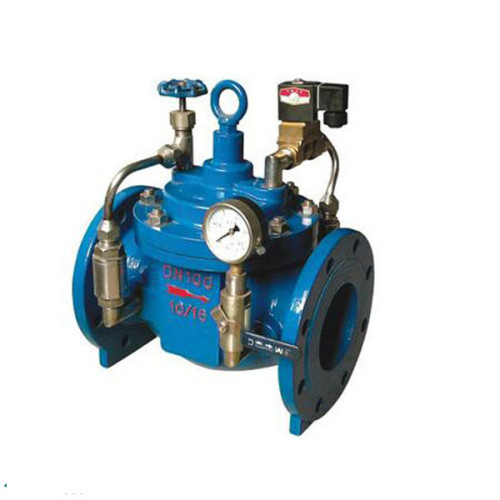 LZ600X Water flow hydraulic control valve
Description
LZ600X Water flow control hydraulic control valves
LZ600X Ductile cast iron hydraulic electric automatic water control valve is composed of main valve, needle valve, solenoid valve, ball valve, etc. Electric water control valve is waterpower operation valve with solenoid valve as a pilot valve. Mainly used for the automatic system of drain and industry system, controlling is precise and fast, Remote opening or closing pipe system by the electrical signal. It can replace gate valve and butterfly valve in large electrical operation system. Valve closing speed can be adjusted, valve closing is steady without pressure variation. This hydraulic electric control valve also has the advantage of small volume, light weight, easy to use and repair, safety and reliability. Solenoid valve can be 220V AC or 24V DC, could choose normally open or close type according to usage.
Working Principle

of
LZ600X Water flow control hydraulic control valves

When valve started to supply water from inlet, water flows into control room via needle valve, when solenoid valve is open, water from control room flows out via solenoid valve and ball valve. Ball valve open degree is bigger than needle valve, control room pressure is low, main valve is fully open; when solenoid valve is closed, water from control room can not flow out, control room pressure rises, diaphragm is pushed to close main valve.
Parameters

of
LZ600X Water flow control hydraulic control valves
LZ600X Water flow control hydraulic control valves

Material of LZ600X Water flow control hydraulic control valves
1. Valve Body 2. Double-thread screw 3. Hexagon Nuts 4. Valve Cap 5. Spring 6. Hexagon Nuts 7. Hexagaon Nuts Lock 8. Lifting Eye 9. Valve Rod 10. Diaphragm Upper Depressor 11. Diaphragm 12. Diaphragm Down Depressor 13. Upper Platern on Sealing Ring 14. Sealing Ring 15. Down Platen on Sealing Ring
Dimension of LZ600X Water flow control hydraulic control valves

LZ600X Water flow control hydraulic control valves