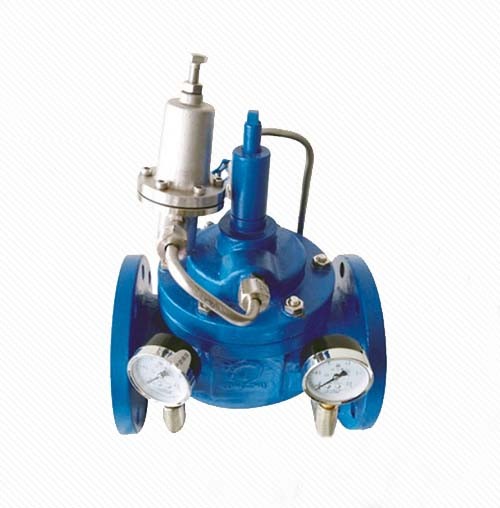 LZ400X Multi-function high-precision pilot operated flow control valves
Item specifics
Nominal Pressure

1.0/1.6/2.5MPa
Shell Test Pressure

1.5/2.4/3.75MPa
Seal Test Pressure

1.1/1.76/2.75MPa
Suitable Medium

Water
Medium Temperature

0-80℃
Description
Brief Introduction
LZ400X flow control valve is a high-precision pilot control type multi function flow control valve. Widely used in high-rise buildings, living quarters and other water supply systems. Suitable for water distribution pipes which need to control the flow and pressure, to maintain a predetermined constant flow rate, flow rate will be limited in a predetermined value, and appropriately reduce upstream high pressure, even if the main valve upstream pressure changes, it will not affect flow of main valve downstream .
This valve is different from regular throttle valves which use plates or purely mechanically reduce drainage area, it uses relevant pilot valve to minimize energy loss in the throttling process, no other devices and energy needed, maintenance is simple, flow control is steady, in case of emergency, the flow control valve can completely cut off the flow, to avoid losses. High control sensitivity, safe, reliable, easy adjustment, long service life.
Working Principle
When valve supply water from inlet, water flows into control room via needle valve, and be discharged from control room to outlet via pilot valve and ball valve, and at this time the main valve is fully open or floating state.
Setting the flow adjusting valve at the up part of main valve, could set certain open degree for main valve. Adjusting needle valve open degree and pilot spring pressure, could make the main valve keeping setting open degree, and when flow changes, pilot valve will adjust automatically to maintain flow rate
Parameters
Nominal

Pressure

Shell Test

Pressure

Seal Test

Pressure

Pressure

Adjust

Range

Pressure

Specification

Flow Rate

Specification

Medium

Medium

Temp.

1.0 MPa

1.5 MPa

1.1 MPa

0.09-0.8MPa

P2*8%

P2*15%

Water

0-80℃

1.6 MPa

2.4 MPa

1.76 MPa

0.10-1.2MPa

P2*10%

P2*20%

2.5 MPa

3.75 MPa

2.75 MPa

0.15-1.6MPa

P2*12%

P2*25%
Material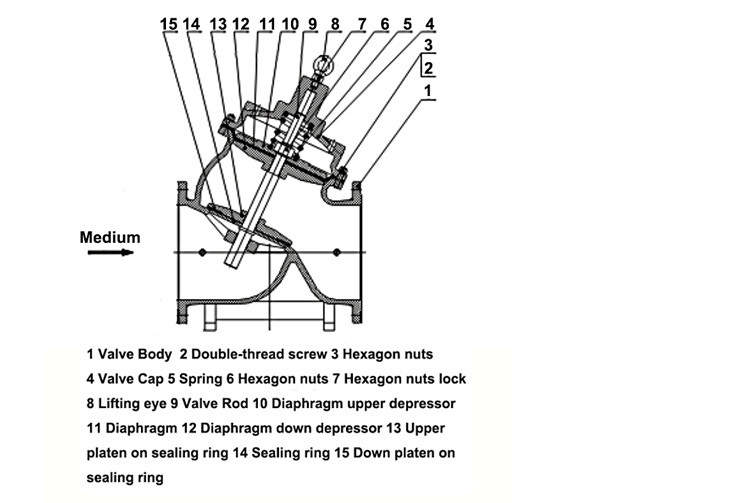 | | |
| --- | --- |
| Part Name | Material |
| Valve Cap | Gray cast iron, Ductile iron, Carbon steel, Stainless steel, etc. |
| Spring | Spring steel, Stainless steel, etc. |
| Diaphragm depressor | Gray cast iron, Ductile iron, Carbon steel, Stainless steel, etc. |
| Diaphragm | NBR, PTFE, etc. |
| Valve Rod | 45# steel, Stainless steel 2Cr13, 1Cr18Ni9Ti, etc. |
| Valve Platen | Gray cast iron, Ductile iron, Carbon steel, Stainless steel, etc. |
| Sealing Ring | NBR, PTFE, etc. |
| Sealing Ring Platen | Gray cast iron, Ductile iron, Carbon steel, Stainless steel, etc. |
| Valve Seat | Copper alloy, Stainless Steel |
| Valve Body | Gray cast iron, Ductile iron, Carbon steel, Stainless steel, etc. |
Installation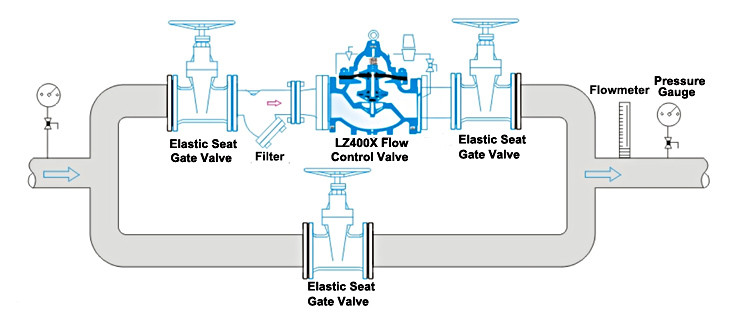 Dimension