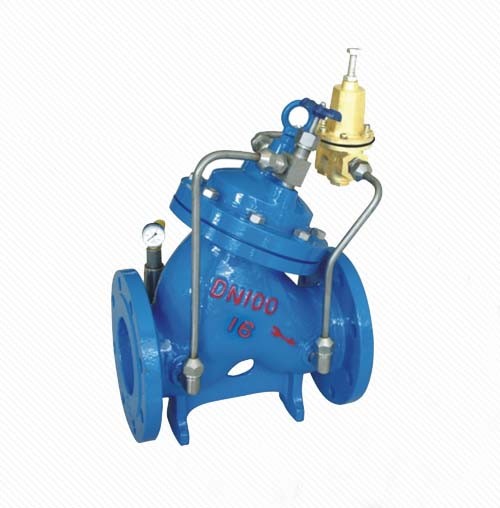 YX741X Adjustable Pressure Reducing And Sustaining Valve
Item specifics
Nominal Pressure

1.0/1.6/2.5MPa
Shell Test Pressure

1.5/2.4/3.75MPa
Seal Test Pressure

1.1/1.76/2.75MPa
Suitable Medium

Water
Medium Temperature

0-80℃
Description
Brief Introduction
YX741 Adjustable pressure reducing and sustaining valve is composed of main valve, needle adjusting valve, ball valve and pipe system. This valve is mainly installed at the upstream of high-rise buildings, living quarters and other pipe network, to reduce or maintain the pressure of downstream pipe network. Main valve adopts the structure of diaphragm type or piston type. Exit pressure is set by adjusting the pressure of relief pilot valve spring and needle valve open degree, and pressure is stabilized by feedback effect from pipe network and control room, no other device or energy needed, easy to maintain, less influenced by entrance pressure and flow, high accuracy of pressure controlling, reliable pressure reducing and maintaining.
Working Principle
When the pipe started water supply, water flows through needle valve into main valve control room, the outlet pressure affect onto the pilot valve via tube. When the outlet pressure is higher than pilot valve setting pressure, pilot valve is closed, control room stops draining, main valve control room pressure rises and the main valve will be closed, the outlet pressure will not rise any more.
When the outlet pressure is lower than pilot valve setting pressure, control room drains to downstream. Pilot valve displacement is higher needle valve water inflow, main valve control room pressure reduces, main valve will be opened by inlet pressure. Under the stable state, control room inflow is the same as displacement, open degree will not change, exit pressure will not change. Exit pressure could be set by pilot valve spring.
Parameters
Nominal

Pressure

Shell Test

Pressure

Seal Test

Pressure

Adjust Range

Suitable

Medium

Medium

Temperature

1.0 MPa

1.5 MPa

1.1 MPa

0.09-0.8MPa

Water

0-80℃

1.6 MPa

2.4 MPa

1.76 MPa

0.15-1.4MPa

2.5 MPa

3.75 MPa

2.75 MPa

0.2-2.0MPa
Features
1 Pressure controlling is stable and reliable. Pilot valve and needle valve works continuously, pressure change of downstream is continuous and steady, less influenced by entrance pressure.
2 Easy to operate. After working pressure setting, when upstream pressure or flow changes, main valve will adjust automatically to stabilize downstream pressure.
3 Valve adopts the design of full bore, straight-flow design, low head loss.

Material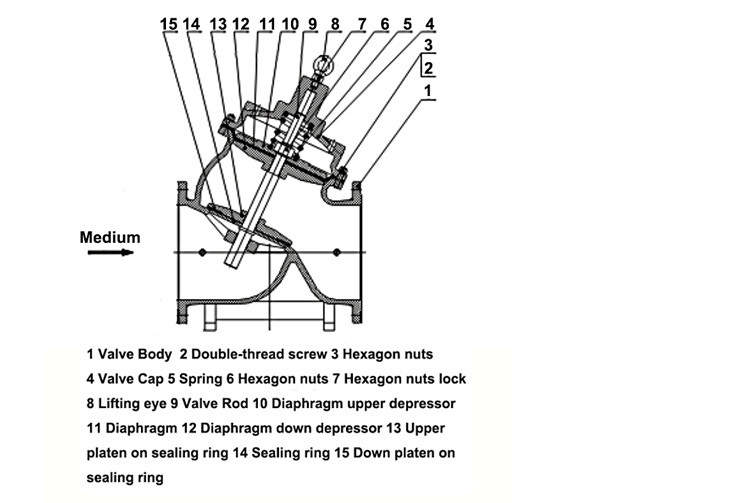 | | |
| --- | --- |
| Part Name | Material |
| Valve Cap | Gray cast iron, Ductile iron, Carbon steel, Stainless steel, etc. |
| Spring | Spring steel, Stainless steel, etc. |
| Diaphragm depressor | Gray cast iron, Ductile iron, Carbon steel, Stainless steel, etc. |
| Diaphragm | NBR, PTFE, etc. |
| Valve Rod | 45# steel, Stainless steel 2Cr13, 1Cr18Ni9Ti, etc. |
| Valve Platen | Gray cast iron, Ductile iron, Carbon steel, Stainless steel, etc. |
| Sealing Ring | NBR, PTFE, etc. |
| Sealing Ring Platen | Gray cast iron, Ductile iron, Carbon steel, Stainless steel, etc. |
| Valve Seat | Copper alloy, Stainless Steel |
| Valve Body | Gray cast iron, Ductile iron, Carbon steel, Stainless steel, etc. |
Installation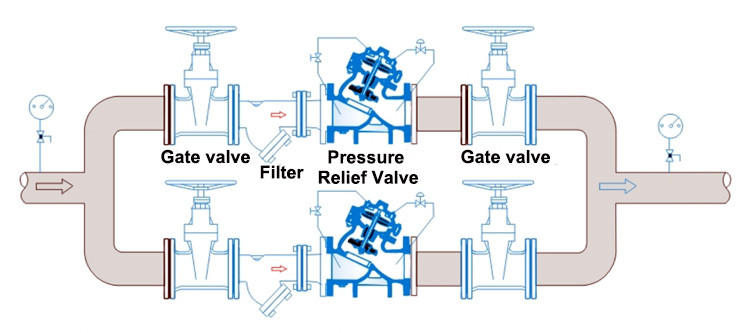 Dimension