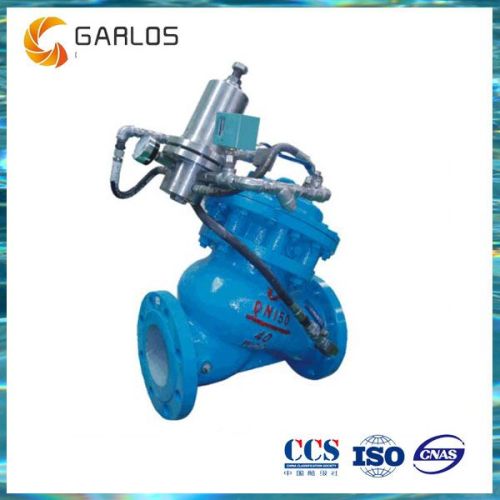 Safety Pressure Relief Surge Anticipating Valve
Item specifics
Valve material

Ductile Cast Iron
Temperature of Media

≤80℃
Power

Manual
Applicable medium

raw water, clean water
Open and close action pressure

≤0.05MPa
Description
Safety Pressure Relief Surge Anticipating Valve
For water supply system, it can respond and release quickly to pressure surge, to prevent the damage to the pipeline and equipment caused by the pressure sharp increasing or reducing, especially suitable for the water pipeline system, to ensure no overpressure in system.
Features
1) Maintain safe and stable pressure, once overpressure or pressure dropped below the set value, main valve can be fully opened to drain and release pressure in time.
2) Closing speed is adjustable, to eliminate the valve closing pressure fluctuation.
3) Diaphragm transmission mechanism minimizes operational hysteresis. Response time is short, high sensitivity.
4) It can be installed in any position, can be repaired and checked without changing pressure set value or removing from the pipeline.
5) Streamlined wide valve body. Y-shaped full opening flow channel design, to ensure that the valve has the largest discharge capacity and good anti-cavitation ability.
6) Enlarged conduit and installed filter to reduce the risk of blocking.
7) Quick response. High sensitive pressure components can respond to pressure changes in time. Reliable adjustment makes the valve pressure relief hammer elimination action in accordance with water surge propagation speed.
8) V-shaped plug and unique pilot valve design, the valve adjustment is more convenient, and operation is more stable.
9) The protection pressure and the discharge time can be set freely according to the site conditions.
10) The valve has a self-inspection and valve working status indicate function to ensure that the valve is always in good working condition.
11) The electronic control part has its own power supply, even if the power fails, it will not affect the valve working.
Installation