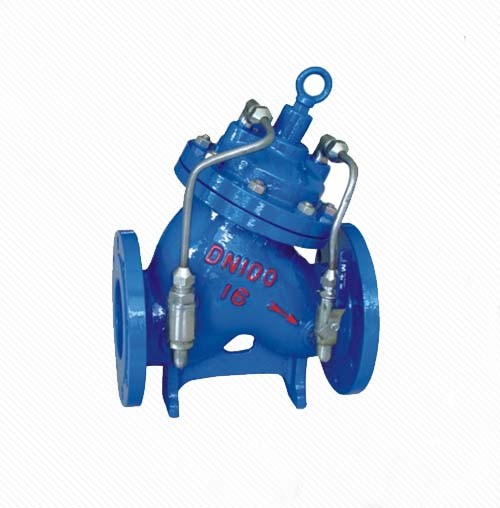 JD745X Multifunctional Pump Control Valve
Item specifics
Nominal Pressure

1.0/1.6/2.5MPa
Shell Test Pressure

1.5/2.4/3.75MPa
Seal Test Pressure

1.1/1.76/2.75MPa
Suitable Medium

Water
Medium Temperature

0-80℃
Description
Brief Introduction
JD745X multi-function pump control valve isinstalled in high-rise building water supply systems and other water supplysystem pump outlet, to prevent the medium backflow, water hammer. The valve combines electric valve, check valve and water hammereliminator three functions, can effectively improve water supply systemsecurity and reliability. And integrates slow opening, fast closing, slowclosure of water hammer eliminating technical principles, to prevent the pump openingwater hammer and pump stop water hammer. Just operate the pump motor open andclose button, the valve can automatically open and close in accordance withpump operating procedures, the flow is large, pressure loss is small.
Working Principle
When the pump starts, the water pressure workson the main valve disc lower part and control chamber lower part, the pressure opensthe main valve, the water of upper control room flows slowly to the outlet throughthe adjusting valve, the main valve opens slowly. Set the opening of thecontrol valve to get the appropriate main valve opening speed. When the pumpstops working, the water pressure at the inlet drops rapidly and closes most ofthe opening rapidly under the action of self-weight and spring pressure toprevent the backflow of water. The remaining opening is controlled by thepressure in the upper chamber of the control room and the water pressure in thelower chamber. Closing speed is slow down to form a buffer to prevent thepressure surge.
Features
1, Water hammer preventing effect is good, integrated slow opening, check and fast closing, slowing closing technology, to prevent pump open water hammer and pump stop water hammer .
2, Easy to operate, no need of electric control system. The valve completes the control function in accordance with the pump opening and closing.
3, The valve body is designed with a full flow diameter, straight flow, streamlined appearance. Pressure loss is small, energy-saving effect is good.

Parameters
Nominal Pressure

Shell Test Pressure

Seal Test Pressure

Slow Closing Time

Minimum

Action Pressure

Suitable Medium

Medium Temperature

1.0MPa

1.5MPa

1.1MPa

3-90 s

Adjustable

≥0.07MPa

Water

0-80℃

1.6MPa

2.4MPa

1.76MPa

2.5MPa

3.75MPa

2.75MPa
Material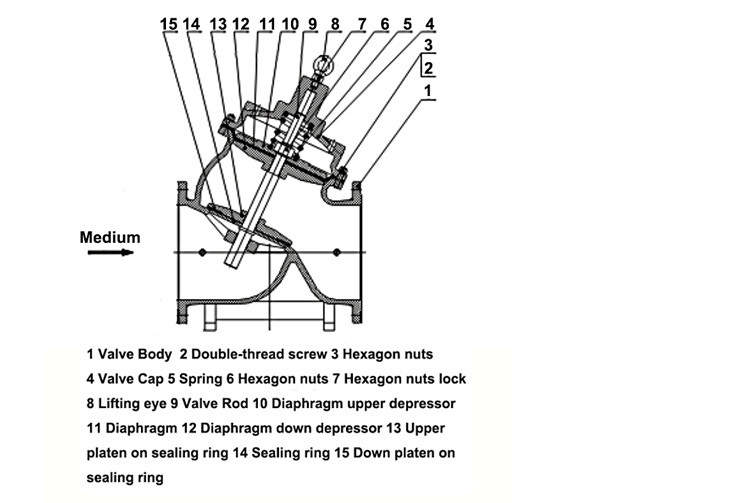 | | |
| --- | --- |
| Part Name | Material |
| Valve Cap | Gray cast iron, Ductile iron, Carbon steel, Stainless steel, etc. |
| Spring | Spring steel, Stainless steel, etc. |
| Diaphragm depressor | Gray cast iron, Ductile iron, Carbon steel, Stainless steel, etc. |
| Diaphragm | NBR, PTFE, etc. |
| Valve Rod | 45# steel, Stainless steel 2Cr13, 1Cr18Ni9Ti, etc. |
| Valve Platen | Gray cast iron, Ductile iron, Carbon steel, Stainless steel, etc. |
| Sealing Ring | NBR, PTFE, etc. |
| Sealing Ring Platen | Gray cast iron, Ductile iron, Carbon steel, Stainless steel, etc. |
| Valve Seat | Copper alloy, Stainless Steel |
| Valve Body | Gray cast iron, Ductile iron, Carbon steel, Stainless steel, etc. |
Installation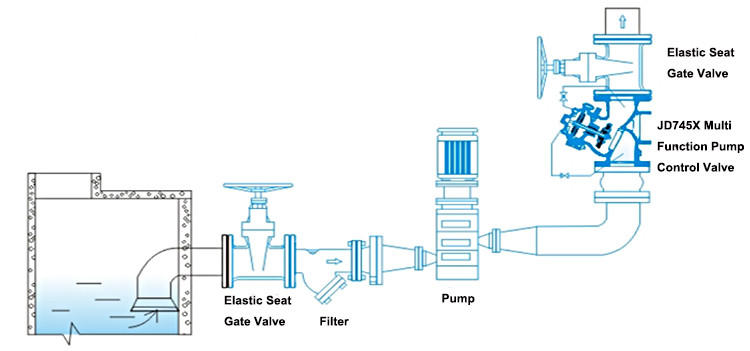 Dimension