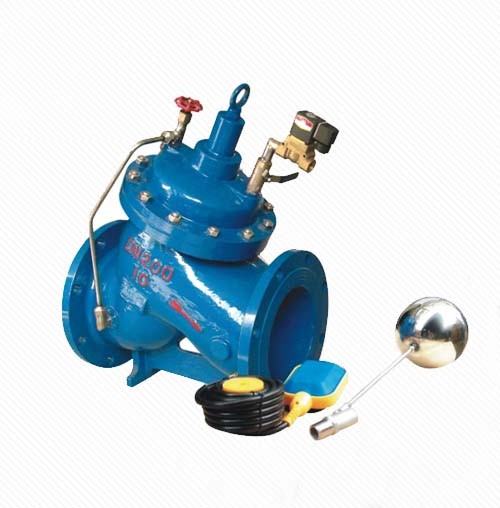 DY106X Electric Remote Control Float Ball Valve
Item specifics
Nominal Pressure

1.0/1.6/2.5MPa
Shell Test Pressure

1.5/2.4/3.75MPa
Seal Test Pressure

1.1/1.76/2.75MPa
Suitable Medium

Water
Medium Temperature

0-80℃
Description
Brief Introduction
DY106X electric remote control float valve is made up of main valve, needle regulating valve, ball valve, electronic float switch, floating ball valve, AC220V / DC24V normally open solenoid valve and conduit.
This valve is usually used for industrial and mining enterprises, water tanks for civil buildings, water tower automatic water supply system, and can be used as atmospheric pressure boiler circulating water control valve. This valve added on the remote-control float valve with AC220V / DC24V normally open solenoid valve and electronic float switch, can play a double insurance role.

Under normal operating conditions, the normally open solenoid valve power is turned on, only the float valve to control the water level. When the water level of the pool or the water tower is lower than the set water level, the valve will automatically open under the pressure of the medium to supply water to the pool or the water tower; when the water level reaches the set level of the pool or the water tower, it will automatically shut down, cut off the water source, to maintain a certain water level of water tank or water tower. When the float valve failure in the pool, the water level exceeds the normal water level 10cm, the electronic float switch action, solenoid valve power off, cut off the water control pipe, the main valve slowly closed, play the role of correct control of water level.

This valve uses the hydraulic principle control, the structure is novel, simple and reasonable, and the work is stable and reliable, in the work pressure scope, opens the nimble, without water hammer impact, installs the maintenance to be convenient, also has the double insurance device, the fluid position control accuracy is high, Not subject to changes in media pressure changes, and tight watertight, flexible and durable, and other fine features.
Nominal

Pressure

Shell Test

Pressure

Seal Test

Pressure

Solenoid Valve

Suitable

Medium

Medium

Temperature

1.0 MPa

1.5 MPa

1.1 MPa

220V (alternating)/ 24V(direct)

Normally Open

Water

0-80

℃

1.6 MPa

2.4 MPa

1.76 MPa

2.5 MPa

3.75 MPa

2.75 MPa
Material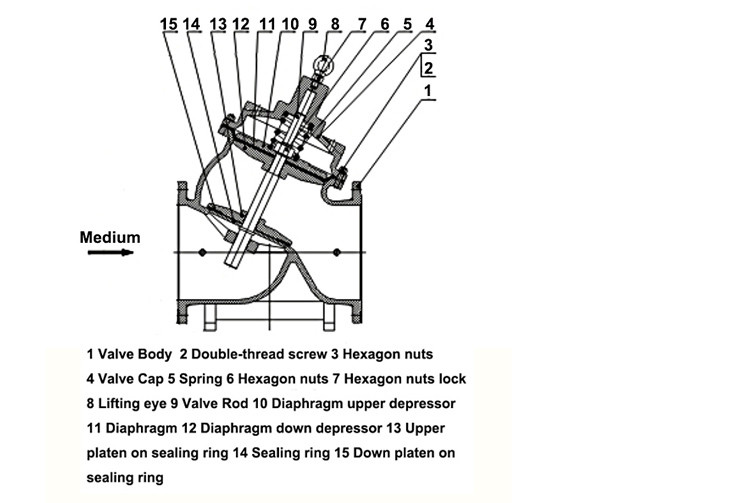 | | |
| --- | --- |
| Part Name | Material |
| Valve Cap | Gray cast iron, Ductile iron, Carbon steel, Stainless steel, etc. |
| Spring | Spring steel, Stainless steel, etc. |
| Diaphragm depressor | Gray cast iron, Ductile iron, Carbon steel, Stainless steel, etc. |
| Diaphragm | NBR, PTFE, etc. |
| Valve Rod | 45# steel, Stainless steel 2Cr13, 1Cr18Ni9Ti, etc. |
| Valve Platen | Gray cast iron, Ductile iron, Carbon steel, Stainless steel, etc. |
| Sealing Ring | NBR, PTFE, etc. |
| Sealing Ring Platen | Gray cast iron, Ductile iron, Carbon steel, Stainless steel, etc. |
| Valve Seat | Copper alloy, Stainless Steel |
| Valve Body | Gray cast iron, Ductile iron, Carbon steel, Stainless steel, etc. |
Installation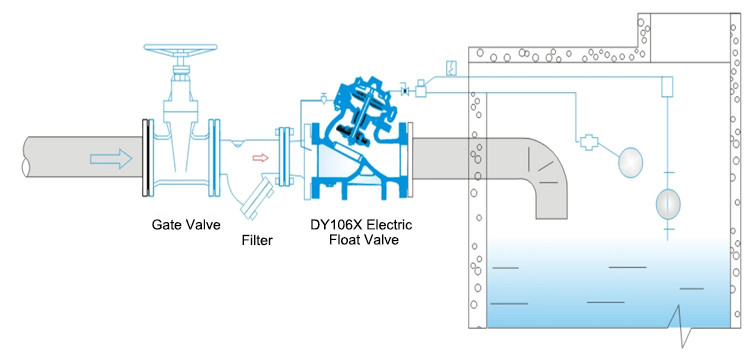 Dimension