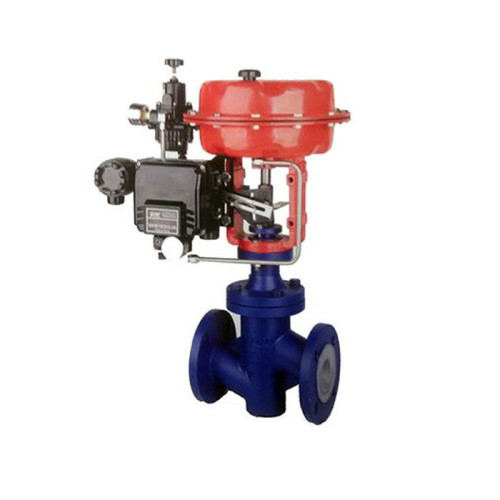 Pneumatic lining ptfe temperature pressure flow control valve
Description
ZJHPF46 pneumatic lining ptfe temperature pressure flow control valve

ZJHPF46 Series pneumatic diaphragm single seat fluoride lining control valve is designed with a top guiding structure, with a multi-spring actuator, with advantages of compact structure, light weight, sensitive action, small pressure drop, large valve capacity, precise flow characteristic, easy disassembly. Widely used in precise control of gas, liquid and other medium to keep the pressure, flow, temperature, liquid level at a given value. Particularly applicable to working condition which allows small leakage and small pressure difference before and after valve. This series products have standard type and cut off type. Product nominal pressure rating: PN6, PN10, PN16, PN25, Class150; Nominal diameter range: DN15~300. Applicable temperature: a variety of grades within -20℃~200℃, leakage grade: VI level, the flow characteristics is linear or equal percent.

ZJHPF series pneumatic diaphragm single seat fluorine lining control valve is the execution unit of pneumatic unit combination instrument, with the instrument, to change the flow of controlled medium (Such as liquid, gas, steam, etc.) so that the controlled parameters (Such as temperature, pressure, flow, etc.) remain at a given value.
Features of ZJHPF46 Pneumatic lining PTFE single seated control valve
1. Corrosion-resistant: the valve body cavity, valve core, seat, stem are made of stainless steel 316, resistant to acid, alkali, and strong corrosion.
2.. Good sealing performance: PTFE bellows and packing double sealing, to ensure no leakage.
3. Leakage is small: As the valve seat is rubber sealing one, so the leakage is lower thatn GB IV standard.
4.Equipped with light and small multi-spring actuator, small size, light weight, high precision adjustment.
Parameter of ZJHPF46 Pneumatic lining PTFE single seated control valve
ZJHPF46 pneumatic lining ptfe temperature pressure flow control valve

30 years working in Valves
Our new base covers an area of 60 acres, the main production plant 10,000 square meters, office support facilities nearly 5,000 square meters, a large vertical lathe and CNC machine tools and other testing equipment.
International sales and service team
Over 20 international services working for you with SOP.
We are not only sale products, we are doing market solution for you.