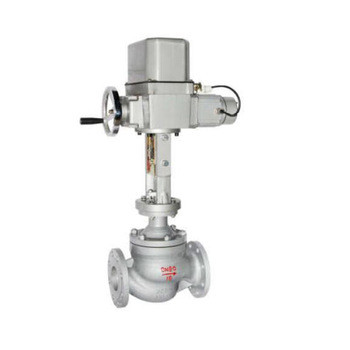 T941H Single seat electric control regulating valve
Description
T941H Single seat electric control regulating valve

T941H electric plunger control valve is composed by PS series and 3810 series straight-stroke electric actuator and low flow resistance plunger control valve. The electric actuator is electronic integrated structure with servo amplifier, inputting control signal to control valve opening degree. It is powered by electricity and can accept unified standard signal (0-10mA / DC, 0-4mA/DC),signal is amplified by the servo amplifier, so that motor drives the gear unit to produce axial thrust, makes the valve core move corresponding , to achieve the regulation of pressure, flow, temperature, liquid level and other technical parameters.
Features of T941H Single seat electric control regulating valve
Electric plunger single seat control valve has the features of sensitive action, simple connection, large flow, small size, high adjusting precision. Plunger single seat control valve has the advantages of less leakage, but the imbalance force is large, so the working pressure difference should not be too high.
Parameter of T941H Single seat electric control regulating valve
T941H Single seat electric control regulating valve