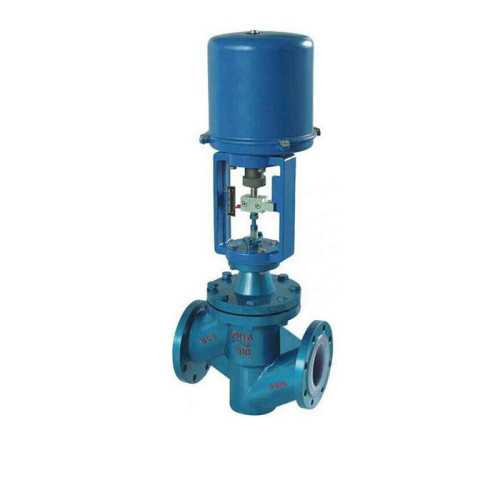 ZDLPF46 PTFE Lining Steam oil Control Regulating Valve
Description
ZDLPF46 PTFE Lining Electric Steam oil Control Regulating Valve

ZDLPF46 Fluorine lining single seat electric control valve is composed of 381L series electric control valve or DKZ-type electric actuator or electronic actuator and lined fluorine plastic straight through the single seat electric control valve parts witch contact with the medium are lined with fluorine plastics, and adopts PTFE material bellows sealing, can be widely applied to the process controlling and regulation of corrosive medium like, alkali, and toxic, volatile gases.
Feature
1. Corrosion resistance: the eclectic control valve within valve chamber, valve core, valve seat and stem are lined with 2.5-3mm F46, can resist acid and alkali, can resistant strong corrosion.
2. Good sealing performance: adopts PTFE bellows and packing double sealing. to ensure no leakage.
3. Leakage is small: the electric control valve core and seat are rubber seal, so the leakage is minimal.
We are Valve manufacture with 40 years manufacturing expertise, China Classification Society in 2007 and achieved the certificate of valve manufacturing, improved quality of valve manufacturing, shipbuilding became a professional valve manufacturer. By 2010, the United Kingdom (LR) Lloyd's approval of qualified products, the company mass 8.5MPa pressure level valve; large-tonnage dock with the cone-shaped discharge valve has a strong competitive strength; innovative valve technology important for our national defense work services. We have been to improve our level of product design to meet the requirements of the user market. Filling pressure medium sealed the success of large-diameter valve manufacturer, industrial valves in China narrowed the gap with foreign technology.


Ministry of Water Resources State enterprises to obtain the production of hydraulic valve structure permits the production of large turbine main valve, vent valve, adjustable door; company has a nationally recognized NDT qualification.

Double-sided sealing large diameter butterfly valve, double valve sealing surface and a half, large-diameter spherical sealing butterfly valve, fixed emission cone valve, piston valve and high wear-resistant plate-shaped valve, instrument valve has become our main products, such valves door for the oil refinery has a certain market competitiveness.


American butterfly valve according to the introduction of production technology standards ANSI/AWWAC504-80 U.S. manufacturing is one of our important products, learn more advanced features of high-performance butterfly valve seal is eccentric way our water supply, environmental protection and sewage treatment., Metallurgical and chemical pipeline product of choice.

Large-diameter valves are widely used in power plants nationwide and abroad, a large thermal power plants, hydropower. I produced a soft seal butterfly valve, metal sealed butterfly valve, quick exhaust valve closing, slow closing hydraulic control valve series full range of control.

The company also produced a vacuum valve, hydraulic control valves, eccentric fan-shaped valves, check valves, mud valves, composite-style exhaust valve, expansion joint head, mechanical water gate boxes.
30 years working in Valves
Our new base covers an area of 60 acres, the main production plant 10,000 square meters, office support facilities nearly 5,000 square meters, a large vertical lathe and CNC machine tools and other testing equipment.
International sales and service team
Over 20 international services working for you with SOP.
We are not only sale products, we are doing market solution for you.