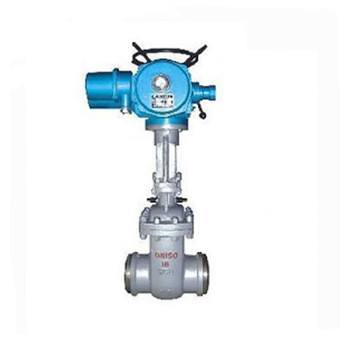 Motorized water seal butt weld gate valve
Item specifics
Pressure:

1.6MPa~10.0MPa, 1.6MPa~10.0MPa
Material:

WCB, 25#
Temperature of Media:

High Temperature
Port Size:

DN50-DN600
Medium:

Water, Steam, Oil, non-corrosive air, etc
Description
Z944H Motorized water seal butt weld gate valve

Structure and performance characteristics of Z944H Motorized water seal butt weld gate valve

1 Structure: valve bonnet packing gland has water circulation seal structure, when the input water pressure is 0.6 ~ 10.0MPa. Make system & atmosphere isolated, to ensure the system with good air tightness.
2 Connection form: socket welding, flange and butt-weld.
3 Actuator: manual and electric.
4 DS / Z-type series has double-gate two-way elastic seal, opening and closing are flexible and quickly, sealing is reliable;
5 Product structure is simple, compact and reasonable, easy to maintain, service life is long.
6 Must be fully open or fully closed in pipeline as an on-off device, shall not be used to adjust the flow.
Applicable Medium and Temperature of Z944H Motorized water seal butt weld gate valve
Test Pressure of Z944H Motorized water seal butt weld gate valve
Material of Z944H Motorized water seal butt weld gate valve
Z944H Motorized water seal butt weld gate valve