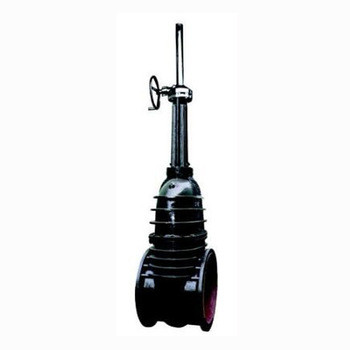 Gear Actuate Rising Stem Wedge Gate Valve
Item specifics
Pressure:

Low Pressure, 1.0MPa - 1.6MPa
Material:

Cast Iron
Temperature of Media:

≤200℃
Port Size:

DN200-DN2400mm
Medium:

Water, oil, steam, etc
Description
Gear Actuate Rising Stem Wedge Gate Valve

Application:
Widely used in water supply and drainage, gas, electricity, metallurgy, petroleum, chemical, textile and urban construction and other industries, as a device for opening and closing for steam, water, oil, pipeline.

Feature:
1.Gate valve is one of the most commonly used shut-off valve, mainly used to connect or cut off the medium in pipeline; the applicable pressure, temperature and nominal diameter range is large, especially suitable for middle and larger diameter pipes.
2.Rising stem gate valve's stem drives up and down together with the disc, the stem transmission thread is on the outside of the valve body, therefore, user could judge the disc opening and closing or position according to the stem moving direction and position, and the transmission thread is easy to lubricate and free from fluid corrosion, but it requires a larger installation space.
3. Parallel double gate vale generally through the top wedge t produce sealing force, the relative movement between the sealing surface is small, not easy to scratch, used for low pressure, small diameter valve.

Dimension Connection Size
Design and Manufacture: GB/T12232-2005 End flange dimension GB/T17241.6-1998 Face to Face Dimension GB/T12221-2005 Test Inspection GB/T13927-2008