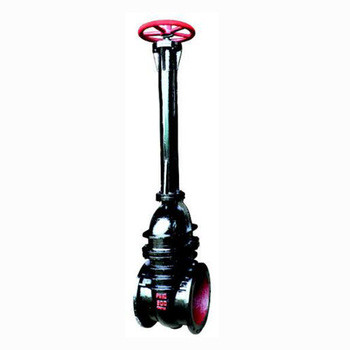 Handwheel Extended Stem Underground Gate Valve
Item specifics
Pressure:

Low Pressure, 1.0MPa - 1.6MPa
Material:

Cast Iron
Temperature of Media:

≤200℃
Port Size:

DN40-DN400mm
Medium:

Water, oil, steam, etc
Description
Handwheel Extended Stem Underground Gate Valve
Application:
Extended stem underground gate valve is mainly applied to deep well installation pipe network or underground pipeline where it will easily flooded or be affected with damp. The product extends the valve actuator( Handwheel, Gear Device, Electric Device, etc) to the place where it is easy to open valve, safe and avoids flooding. In the deep wells, valve can be opened or closed without other auxiliary tools and without going down to deep wells, effectively protects the personal safety and transmission device service life, easy to use.

Feature:
1. Gate valve is one of the most commonly used shut-off valve, mainly used to connect or cut off the medium in pipeline; the applicable pressure, temperature and nominal diameter range is large, especially suitable for middle and larger diameter pipes.
2. Rising stem gate valve's stem drives up and down together with the disc, the stem transmission thread is on the outside of the valve body, therefore, user could judge the disc opening and closing or position according to the stem moving direction and position, and the transmission thread is easy to lubricate and free from fluid corrosion, but it requires a larger installation space.
3. Wedge rigid single disc gate valve structure is simple, size is small , reliable to use, it is suitable for various room temperature and middle temperature medium and pressure working condition.

Design and Manufacture: GB/T12232-2005 End flange dimension GB/T17241.6-1998 Face to Face Dimension GB/T12221-2005 Test Inspection GB/T13927-2008