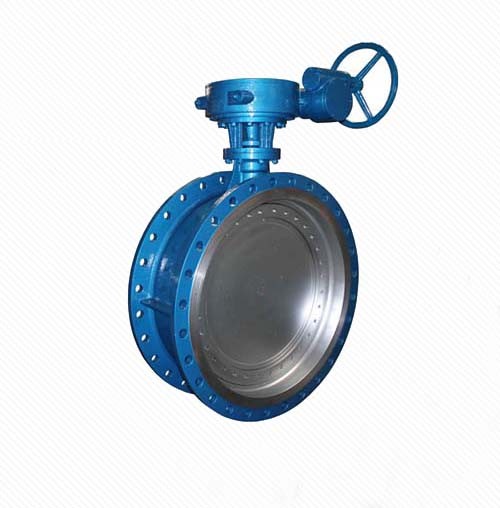 Large Diameter Double Sealing Surface Butterfly Valve
Model

2PD341X/2PD941X/2PD741X
Item specifics
Pressure

0.6/ 1.0/ 1.6MPa
Sealing

Metal/ Rubber
Flow path

Straight
End connection

Flanged
Actuator

Worm gear/ Hydraulic/ Electric
Flange standard

GB/T12238, JB/T8527, GB12221, GB/T17241.6 or customized
Test and inspection standard

GB/T13927-92 or customized
Description

1. Equipped with two sets of sealingsurfaces, valve can be fully sealed bi-directionally.
2. Can prevent excessive deformation ofvalve sealing surface, ensure reliable sealing to achieve zero leakage.
As the figure below, thrust F1 generated bythe valve seat under the hydraulic pressure can partially offset the thrust ofthe water pressure on the disc F2, thereby reducing the disc deformation.Butterfly valve is equipped with metal-to-metal seal combined withmetal-to-rubber seal. Metal-to-metal seal can withstand the pressure generatedby the irregular deformation of valve disc, metal-to-rubber seal can compensatefor the gap caused by deformation.

3. Sealing surface service life is long
When the valve is opening, or closing, thevalve seat and disc sealing surfaces will separate from each other. There is nofriction, no abrasion between the sealing surfaces. The rubber is only underpressure and will not be sheared.
4. Open-close torque is only 1/3 oftraditional butterfly valve, valve actuator mechanism is small, open and closefast. Traditional butterfly valve relies on elastic material radial deformationextruding on sealing surface to achieve valve sealing. To make elastic materialradial deformation, a great force will be needed, and second, after valve isdosed, the water pressure will form a large extrusion force between the sealingsurfaces (that is usually called blind plate force). To open the valve, need toovercome friction resistance generated blind plate force So traditionalbutterfly valve opening and closing torque is very large. This valve relies onhydraulic machine to apply axial sealing pressure (rather than radial), and thesealing surfaces have already been separated when valve is opening, no blindplate force, so valve opening and closing torque is very small.
5. Valves can be repaired with pressure
After valve closed, stem packing materialcan be replaced with pressure, and also can check and replace downstream sideseal ring.
1. Valve body: carbon steel Q345 or caststeel ZG230-450
2. Disc: carbon steel 0345 or cast steel ZG230-450sealing surface welding hard alloy CrCow
3. Shear pin: stainless steel SUS304
4. Stem: carbon steel 45# or stainlesssteel 2Cr13
5. Seal ring: NBR
6. Valve seat (water stop ring): ductileiron QT450-12 sealing surface welding pure Ni
7. Oil ring cap: ductile iron QT450-12
8. Oil ring: ductile iron QT450-12
9. Shaft sleeve: bronze QSN6.5-0.1
10. Seal packing: NBR
Flange connection and manufacturing standard: GB/T12238, JB/T8527, GB12221, GB/T17241.6, etc.
Test and inspection standard: GB/T13927-92
Could also manufacture according to requested standard
In the large-diameter water supply pipesystem, butterfly valve has the advantages of simple structure, smallinstallation space, low manufacturing cost, it is the most widely used valve.But the traditional butterfly valve has the following major flaws:
1.Can not seal strictly.
When closing large-diameter valves, thepressure components will be subject to great stress: both fluid staticpressure, but also assembly stress and temperature stress, as well as residua!stress, casting stress, welding stress left from valve manufacturing process.And under these pressure, the sealing surface will increase irregular deformation. The largervalve diameter is, the greater absolute deformation value is. The right pictureis using software to analyze and calculate DN3600 butterfly valve discdeformation under 0.6MPa water pressure. (Disc structure is designed according relatedstandard). As shown in picture, the maximum deformation of the sealing surfaceis 5.46 mm, the traditional sealing method is to rely on the radial deformationof elastic materials to form a sealing pressure to achieve sealing. Both thesoft seal butterfly valve and metal seal butterfly valve, both central line butterflyvalve and single, double and triple offset butterfly valve, the sealing theory isthe same. The deformation of the pressure element is so large that it cannot becompensated by the traditional sealing method, that is why the valve cannot besealed strictly.
2, Can not achieve bi-directional sealing.
When the valve is closing, the pressure componenton disc will produce elastic deformation under the fluid pressure. The valvedesign principle is generally to direct the deformation direction to thedirection which is helpful for sealing. The greater fluid pressure is, thegreater force on the sealing surface is, the more tightly valve seals. If thevalve is subjected to reverse pressure, pressure component will deform in adirection away from the sealing surface, and the sealing will fail. So,traditional butterfly valve is unable to achieve bi-directional sealing.
3, Valve opening and closing torque is big,a large transmission ratio mechanism (such as multi-stage worm gear reducer) will be needed to meet theopening and closing torque requirement. Manual or electric valves, handwheelsor motors always need to turn hundreds of circles to open or close the valve.
And the actuator mechanism is bulky andheavy. Large-diameter double-sealed butterfly valve solved the problems oftraditional butterfly valve by Its unique
1 Equipped with two sealing surfaces.
The deformation of compression element will always create an additional sealing pressure on onesealing surface regardless the valve is under forward or reverse pressureTherefore, the valve is particularly suitable for bi-directional strict closurewater system.
2.Valve seat (waterstop ring) can take axial movement along the flow path direction, as shown inpicture: the valve seat, oil ring, oil ring cap, seal rings and other components compose a mechanism similar to a hydraulic cylinder, the valve seat is equivalent to the hydraulic cylinder piston. The two oil nozzles respectively inject or discharge pressure oil into the two oil chambers. When the valve is closing, oil chamber 1 is pressurized, oil chamber 2 is depressurized, and the valve seat moves towards the sealing surface (right side in the picture), and the sealing surface contacts and forms an appropriate sealing thrust to form aseal Before opening the valve, oil chamber 2 is pressurized and oil chamber 1 is depressurized. Valve seat moves to the left and leaves sealing surface, and then the disc rotates to open valve.
3 Hydraulic source which drives valve seat is provided by the valve itself. No need to be equipped separately. Hydraulic system takes valve actuator mechanism as power source, and no need to equip another power source.
Hydraulic source design is novel, and structure is simple and reliable. It allows the valve to operate according to the following procedure.
Valve Open:
Valve actuator rotates 2.5°(Disc doesn't move) - Valve seat leaves sealing surface - Disc rotates 90°- Valve is fully opened.
Valve Close:
Disc rotates 90°-- Valve is fully closed -- Valve actuator rotates 2.5° (Disc doesn't move) - Valve seat moves and presses towards sealing surface.
4. Oil ring and valve body are with a flexible connection, valve body deformation will not make oil ring, valve seat and other parts deformation. Valve seat will not be stuck.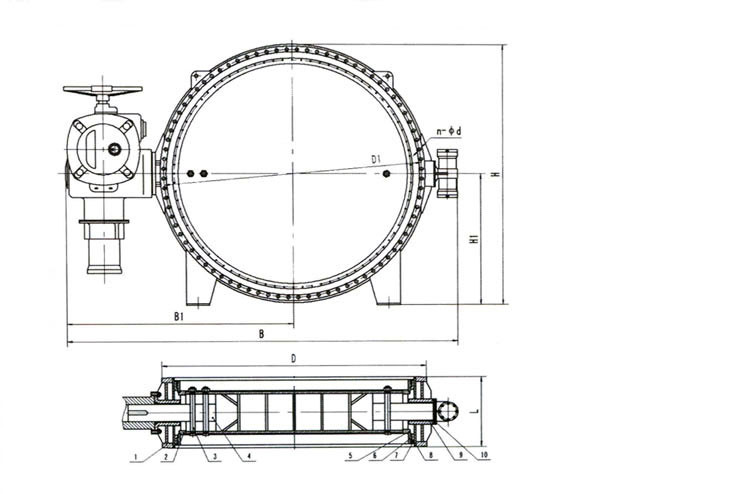 DN

Boundary Dimension

Connection Dimension

PN0.6

PN1.0

PN1.6

L

H

H1

B

B1

D

D1

n-Φd

b

D

D1

n-Φd

b

D

D1

n-Φd

b

1000

410

1270

650

1890

950

1175

1120

28-31

36

1230

1160

28-33

38

1255

1170

28-42

46

1200

470

1565

800

2245

1150

1405

1340

32-34

40

1455

1380

32-39

44

1485

1390

32-48

52

1400

530

1680

850

2360

1210

1630

1560

36-37

44

1675

1590

36-42

48

1685

1590

36-48

58

1600

600

1860

950

2690

1355

1830

1760

40-37

48

1915

1820

4048

52

1930

1820

40-55

64

1800

670

2120

1100

2875

1490

2045

1970

44-40

50

2115

2020

44-48

56

2130

2020

44-55

68

2000

760

2290

1200

3190

1580

2265

2180

48-43

54

2325

2230

48-48

60

2345

2230

48-60

70

2200

850

2760

1400

3685

1910

2475

2390

52-43

60

2550

2440

52-52

64

2570

2450

52-62

70

2400

900

2980

1500

4015

2090

2685

2600

56-43

62

2760

2650

56-56

66

2765

2650

56-56

74

2600

950

3230

1650

4205

2180

2905

2810

60-49

64

2960

2850

60-52

70

3050

2850

56-56

80

3000

1000

3590

1800

4710

2370

3315

3220

68-49

70

3405

3220

68-56

74

3410

3290

68-62

88

3600

1100

4170

2050

5155

2705

3970

3860

80-56

84

4005

3890

72-62

88

4000

1300

4440

2300

5720

3015

4500

4350

82-62

88

4405

4300

72-62

96

4200

1500

4820

2450

6082

3255

4710

4560

82-62

96

4615

4500

88-62

102