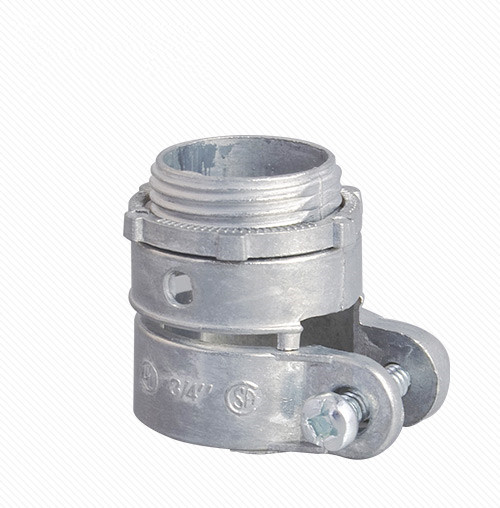 Quick Electrical Conduit Squeeze Connector
Item specifics
Fitting Type

Electrical conduit connector or fitting
Made

Die casted-of zinc alloy
Founction

Waterproof, protect wire safety
Surface treated

Chrome or nickel pated for a smoother surface
Size

6 mm to 150mm or 5/16 inch to 6 inch
Description
Quick Electrical Conduit Squeeze Connector
| | |
| --- | --- |
| Name | Full size Electrical Conduit Squeeze Connector |
| Material | Zinc |
| Size | 1/2"-2" |
| Property | Quick connected conduit and box to protect wire safety |
| Type | Squeeze type conduit coupling |
| Standard | ISO |
| Key words | Seal tight coupling, liquid-tight coupling,watertight coupling, watertight connectors, insulated seal tight coupling, insulated liquid-tight connector. |
Electrical Metal Insulated Terminal Wiring Connector are used to bond metal clad cables & conduits to electrical junction boxes & enclosures. Combination fittings allow the installer to easily join flexible metal conduits to EMT, Rigid or Liquid Tight Conduits. These Fittings are offered in both 90 degree or straight profiles and can be bonded using built in set screws, squeeze clamps, screw threads, or saddle mount devices. These connectors accommodate flexible metal conduits from 1/2" to 4".
Quick Electrical Squeeze Connectors application:
These squeeze-type connectors with insulated throats are used in dry locations to bond flexible metal conduits to boxes or enclosures.

Quick Electrical Squeeze Connectors Competitive advantage:
The metallic construction maintains mechanical protection and solid grounding of the conduit to the designated electrical junction box or enclosure. Their insulated plastic throats help reduce the threat of wires from being cut or skinned by sharp edges when being pulled through conduits.