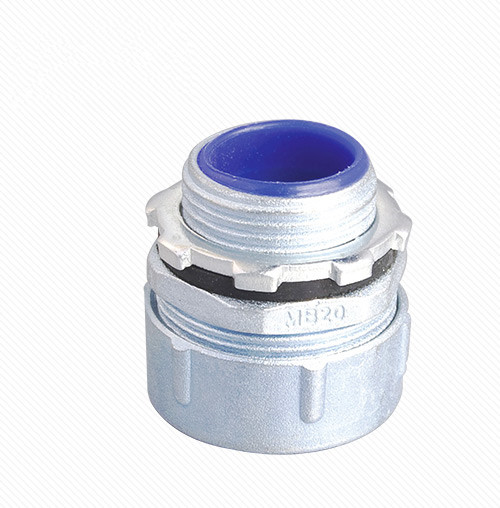 Plum type male flexible conduit connector - Zinc
Item specifics
Fitting Type

Electrical flexible conduit connector
Made

Die casted-of zinc alloy with zinc plated on its surface.
Founction

Waterproof, protect wire safety
Surface treated

Chrome or nickel pated for a smoother surface
Size

6 mm to 150mm or 5/16 inch to 6 inch
Description
MPJ Plum Type Male Flexible Conduit Connector
Plum Type Male Flexible Conduit Connector Description:
1.Model number: MPJ
2.Material: Zinc alloy(with insulation parts)
3.Surface treatment: Chrome or nickel plated.
4.Size: 1/16"-6"
5.Type: Straight type
6.Thread type:Male
7.Head code: Plum type
8.Usage: For the connecting of flexible pipe, metal pipe or equipment.
9.Features: Reliable quality, stable performance.
10.Application: These straight connectors are used on flexible metallic conduits.
They are used to positively bond conduits to boxes or enclosures in both wet and damp locations.
Plum Type Male Flexible Conduit Connector Specification:
CAT#

Flexible conduit

Imperial Units Thread

Thick Steel Thread

Thin Steel Thread

Metric Units Thread

German Units

Metric

Imperial

MPJ-006

φ6

G1/4″

C13

M14×1.5

PG7

MPJ-008

φ8

5/16″

G3/8″

C15

M16×1.5

PG9

MPJ-010

φ10

1/4″

G3/8″

C15

M16×1.5

PG9

MPJ-012

φ12(13)

3/8″

G3/8″

C19

M20×1.5

PG11/PG13.5

MPJ-015

φ15(16)

1/2″

G1/2″

C19

M20×1.5/M24×1.5

PG1.35/PG16

MPJ-020

φ20(19)

3/4″

G3/4″

C25

M27×2/M30×2

PG21

MPJ-025

φ25

1″

G1″

C31

M33×2/M36×2

PG29

MPJ-032

φ32

1/1/4″

G1/1/4″

C39

M42×2/M48×2

PG29

MPJ-038

φ38(40)

1/1/2″

G1/1/2″

C51

M48×2/M60×2

PG36/PG42

MPJ-051

φ51(50)

2″

G2″

C63

M60×2/M72×2

PG48

MPJ-064

φ64(70)

2/1/2″

G2/1/2″

C75

M76×2

MPJ-075

φ75(80)

3″

G3″

M88×2

MPJ-100

φ100

4″

G4″

M114×2

MPJ-125

φ125

5″

G5″

M140×2

MPJ-150

φ150

6″

G6″

M164×2
Assmbly Fig:
Step one: Cut the flexible metal pipe according to the reduired lingth,put the nut onto flexible metal pipe, the put in slide proof washer and seal packing;
Step two: Lock the grounding cone into protective flexible metal pipe;
Step three: Put the body onto protective flexible metal pipe, then lock nut to the body;
Step four: Put the plastic sheath and seal packing onto the body, and the lock the loknut;
Step five: Finished assembly