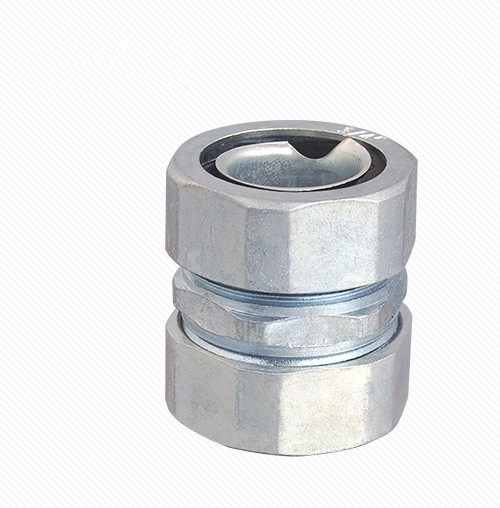 Ferrule Pipe End Compression connector
Item specifics
Fitting Type

Electrical conduit connector
Made

Die casted-of zinc alloy with zinc plated on its surface.
Founction

Waterproof, protect wire safety
Surface treated

Chrome or nickel pated for a smoother surface
Size

6 mm to 150mm or 5/16 inch to 6 inch
Description
DGJ Ferrule Conduit End Compression Connector
1.Model number: DGJ
2.Material: Zinc alloy
3.Surface treatment: Chrome or nickel plated.
4.Size: 1/16"-6"
5.Usage: For the connecting of flexible pipe, metal pipe or equipment.
6.Features: Reliable quality, stable performance.
7.Application: These straight connectors are used on flexible metallic conduits. They are used to positively bond conduits to boxes or enclosures in both wet and damp locations.
Specifications:
CAT#

Flexible Conduit

Thick Steel Pipe A (Water Gas Tube)

Thin Steel Pipe B (Wire Tube)

Metric

Imperial

Metric

Imperial

OD * Thickness

Metric

Imperial

OD * Thickness

DGJ-010

φ10

1/4″

#10

1/4″

#12

1/2″

12.76 × 1.60

DGJ-012

φ12(13)

3/8″

#12

3/8″

17 × 2.25

#15

5/8″

15.87 × 1.60

DGJ-015

φ15(16)

1/2″

#15

1/2″

21.25 × 2.75

#20

3/4″

19.05 × 1.80

DGJ-020

φ20(19)

3/4″

#20

3/4″

26.75 × 2.75

#25

1″

25.40 × 1.80

DGJ-025

φ25

1″

#25

1″

33.5 × 3.25

#32

1/1/4″

31.75 × 1.80

DGJ-032

φ32

1/1/4″

#32

1/1/4″

42.25 × 3.25

#40

1/1/2″

38.10 × 1.80

DGJ-038

φ38(40)

1/1/2″

#40

1/1/2″

48 × 3.5

#50

2″

50.80 × 2.0

DGJ-051

φ51(50)

2″

#50

2″

60 × 3.5

#70

2/1/2″

63.50 × 2.5

DGJ-064

φ64(70)

2/1/2″

#70

2/1/2″

75.5 × 3.75

#80

3″

76.2 × 3.20

DGJ-075

φ75(80)

3″

#80

3″

88.5 × 4

DGJ-100

φ100

4″

#100

4″

114 × 4

DGJ-125

φ125

5″

#125

5″

140 × 4.5

DGJ-150

φ150

6″

#150

6″

165 × 4.5
Assmbly Fig: