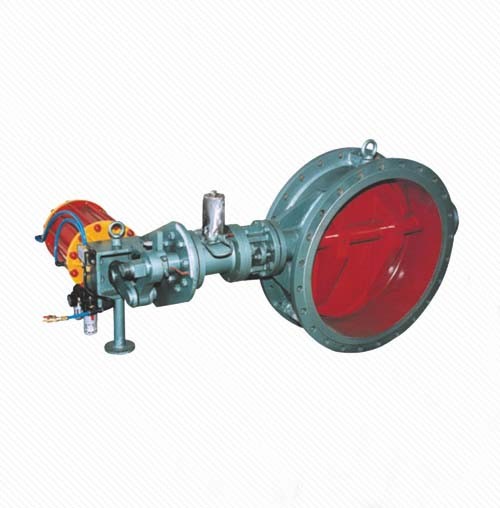 H247H Pneumatic High Temperature Multilayer Metal Seal Butterfly Check Valve
Item specifics
Nominal Pressure

0.6/1.0/1.6MPa
Shell Test Pressure

0.9/1.5/2.4MPa
Seal Test Pressure

0.66/1.0/1.75MPa
Two - position three - way solenoid valve

AC 220V 50HZ
Stroke Switch

AC 220V 50HZ
Pneumatic Pressure

0.4-0.8MPa
Description
Brief Introduction
H247H Pneumatic High Temperature Multilayer Metal Seal Butterfly Check Valve is suitable for pipeline with temperature less than 425℃ and steam or micro dust media, to avoid media flow back, to protect fan, pipeline and so on
Features
1 Disc automatically close or open under the pressure of media, with the function of power-assist buffering and disc force closing
2 Working with cylinder, to ensure valve quick force closing.
3 Valve is assembled with disc open/close signal device.
4 Valve is assembled with device to precisely control disc open degree.
5 Triple offset, low sealing surface abrasion, long service life and O leakage.
6 Reasonable structure, working performance is reliable.

Structure

Specification
Nominal Pressure MPa

0.6

1.0

1.6

Working Pressure MPa

0.6

1.0

1.6

Shell Test Pressure

0.9

1.5

2.4

Seal Test Pressure

0.66

1.1

1.76

Solenoid Valve Power

AC 220V 50HZ

Position Limit Switch Power

AC 220V 50HZ

Force Closing Time

≤5s

Pneumatic System Working Pressure MPa

0.4-0.8

Temperature

≤425℃

Media

Steam, Air with Micro dust
Dimension