PQD Series Rubber/Metal Seal Sphere cast iron DN2200 double flange central butterfly valve
Item specifics
Seal

Metal/ Rubber
Flow path

Straight
End Connection

Flange
Sealing surface

sphere surface
Disc

Offset disc
Description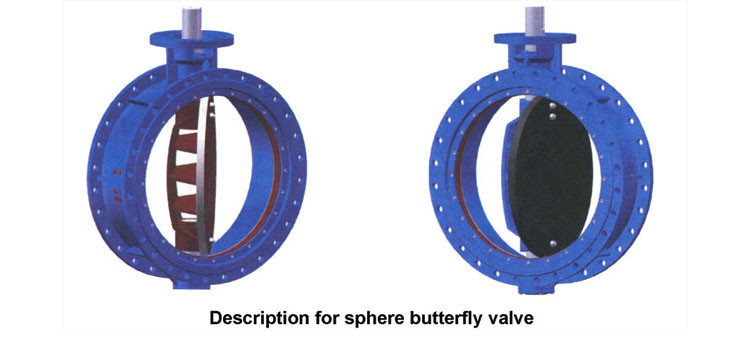 Our company started to manufacture sphere butterfly valve with German technology since 1999, we are the first factory who manufacture sphere butterfly valve in China. This products have been exported to Europe, Africa and Southeast Asia. The product has been improved several times, the quality tends to be perfect.
Butterfly valve has the advantages of simple structure, small installation area, low manufacturing costs and so on.
It is the valve with largest usage, widest application range. Butterfly valve is to rely on the radial deformation of elastic material to form a sealed pressure ratio, to achieve the seal. Both soft seal butterfly valve or hard seal butterfly valve, whether it is a midline butterfly valve or single, double, triple eccentric butterfly valve, sealing principle is essentially the same. This seal has two major shortcomings, one is the sealing pressure cannot be too large, otherwise the disc will be stuck, cannot be rotated, the seal surface will be damaged, so it is not suitable for high pressure working conditions(Pressure generally no more than 2.0MPa). The second is sensitive to the impurities contained in the medium, if the impurities attached on the sealing surface, the valve cannot close or sealing surface will be damaged.
Eccentric sphere butterfly valve adopts unique eccentric spherical surface to the axial floating tubular end sealing, completely solved the shortcom -ings of butterfly valve sealing. Its structure and size are the same as those of regular butterfly valves, manufacturing cost is similar. It has the advan -tages of small installation area, fast opening and closing, reliable sealing and long service life. It can adapt to high pressure (6.4MPa), high flow rate, high concentration impurity water, Oil, gas and other medium, it is the ideal butterfly valve to replace traditional butterfly valves.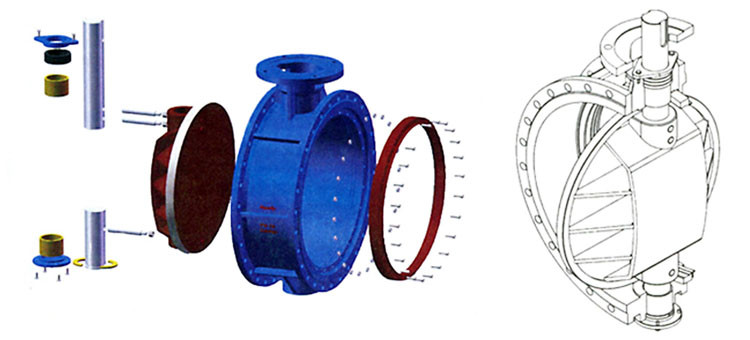 1 valve can achieve bi-directional zero leakage (when both direction withstand 1.1 times the rated nominal pressure), adopts eccentric disc, floating seat, between valve core rotation center and valve seat installation center, there is a eccentricity δ( see picture below), after the valve is fully closed, if the valve close a small angle more (such as 0.5 °), the valve seat sealing surface and valve core sphere will produce interference, which means there will be a great extrusion force between the two sealing surfaces, to form high sealing pressure ratio, achieving strict sealing in high-pressure working conditions.
Valve eccentricity δ is determined by a rigorous theoretical calculation (hydraulic calculation, eccentric shaft bending stiffness, torsional stiffness calculation the spherical crown and the valve seat deformation calculation) and not less than 20 tests. It can meet the requirement of bi-direction sealing.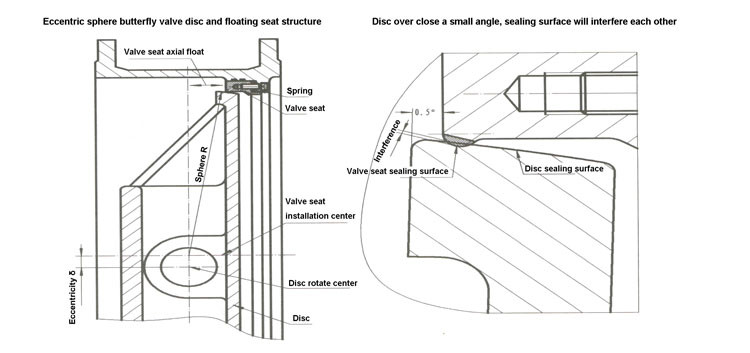 2. Sealing surface will not wear, will not stuck or strained
Due to the eccentric sphere structure and eccentricity take full account of fluid .hydraulic characteristics and mechanics of material, when valve is opening, valve core turns a tiny angle (such as 0.5 °), valve core and valve seat will be separated. When the valve is closing, valve core and valve seat contacts each other at the last moment, thereby reduces abrasion.
Sealing surfaces are line contact, the extrusion stress of contact point directs to eccentric sphere core, the valve disc is without wrapped force, the valve disc will not be stuck. The valve seat can be axial floating, the floating distance is enough to compensate for valve disc deformation under hydrostatic pressure, temperature stress, installation stress, so the sealing pressure ratio between the seal surface is basically a constant value, the sealing surface does not produce occlusion and strain phenomenon.

3. Sealing surface has the function of self cleaning.
For the fouling, weeds, sticks and wire and other dirt attached on sealing surface, every time when valve is closing, they will be cut off.

4 Material and technological characteristics
Valve seat sealing surface overlayed pure nickel, heat-treated surface hardness is HRC43-47 after heat-treatment, hard sealing valve disc sealing surface overlayed Stellite. Surface hardness is HRC51-55. Both hardness with a reasonable matching, good sealing running-in ability.
Soft sealing valve disc is fully coated(Below DN500) or partly coated(above DN500) with NBR. Rubber adopts Exxon's raw materials, vulcanized with disc. Rubber strength is no less than 17.6MPa, rubber and disc adhesive strength is no less than 14MPa.
Valve shaft sealing packing adopts flexible graphite. Packing replacement could be done without removing valve from the pipeline, without disassembling actuator, and with pressure.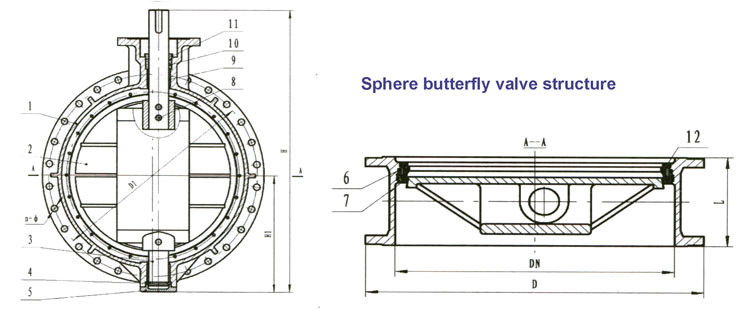 S.N.

Name

Material

Material Code

Metal Seal

Rubber Seal

Metal Seal

Rubber Seal

1

Valve Body

Ductile Iron

Ductile Iron

QT450-12

QT450-12

2

Disc

Ductile Iron surfacing hard alloy

Ductile Iron fully coated rubber

QT450-12+Hard alloy

QT450-12+NBR

3

Stem

Stainless steel

Stainless steel

1Cr18Ni9Ti

1Cr18Ni9Ti

4

Bearing

Bronze

Bronze

QSn6.5-0.1

QSn6.5-0.1

5

Bottom Cap

Carbon Steel

Carbon Steel

45

45

6

Abnormal Spring

Alloy steel

Alloy steel

60SiMn

60SiMn

7

Valve Seat

Ductile Iron surfacing pure nickel

Ductile Iron surfacing pure nickel

QT450-12/Ni

QT450-12/Ni

8

Shear Pin

Stainless steel

Stainless steel

1Cr18Ni9Ti

1Cr18Ni9Ti

9

Stem Sleeve

Bronze

Bronze

QSn6.5-0.1

QSn6.5-0.1

10

Packing

Flexible graphite

Flexible graphite

11

Packing Gland

Ductile Iron

Ductile Iron

QT400-10

QT400-10
DN

Boundary

Dimension

Connection Dimension

PN0.6

PN1.0

PN1.6

PN2.5

L

H

H1

D

D1

n-Φd

b

D

D1

n-Φd

b

D

D1

n-Φd

b

D

D1

n-Φd

b

600

267

660

390

755

705

20-26

30

780

725

20-30

34

840

770

20-36

54

845

770

20-39

58

700

292

780

460

860

810

24-26

32

895

840

24-30

34

910

840

24-36

40

960

875

24-42

50

800

318

850

530

975

920

24-31

34

1015

950

24-33

36

1025

950

24-39

42

1085

990

24-48

54

900

330

920

570

1075

1020

24-31

36

1115

1050

28-33

38

1125

1050

28-39

44

1185

1090

28-48

58

1000

410

990

630

1175

1120

28-31

36

1230

1160

28-33

38

1255

1170

28-42

46

1320

1210

28-55

62

1200

470

1115

750

1405

1340

32-34

40

1455

1380

32-39

44

1485

1390

32-48

52

1530

1420

32-55

70

1400

530

1230

850

1630

1560

36-37

44

1675

1590

36-42

48

1685

1590

36-48

58

1755

1640

36-60

76

1600

600

1340

990

1830

1760

40-37

48

1915

1820

40-48

52

1930

1820

40-55

64

1975

1860

40-60

84

1800

670

1570

1100

2045

1970

44-40

50

2115

2020

44-48

56

2130

2020

44-55

68

2000

760

1680

1170

2265

2180

48-43

54

2325

2230

48-48

60

2345

2230

48-60

70

2200

850

1930

1890

2475

2390

52-43

60

2550

2440

52-52

64

2570

2450

52-62

70

2400

900

2110

1910

2685

2600

56-43

62

2760

2650

56-56

66

2765

2650

56-56

74

2600

950

2285

2020

2905

2810

60-49

64

2960

2850

60-52

70

3050

2850

56-56

80

3000

1200

2570

2195

3315

3220

68-49

70

3405

3220

68-56

74

3410

3290

68-62

88

3600

1500

2960

2520

3970

3860

80-56

84

4005

3890

72-62

88

4000

1600

3275

2830

4500

4350

82-62

88

4405

4300

72-62

96

4200

1800

3490

2920

4710

4560

82-62

96

4615

4500

88-62

102