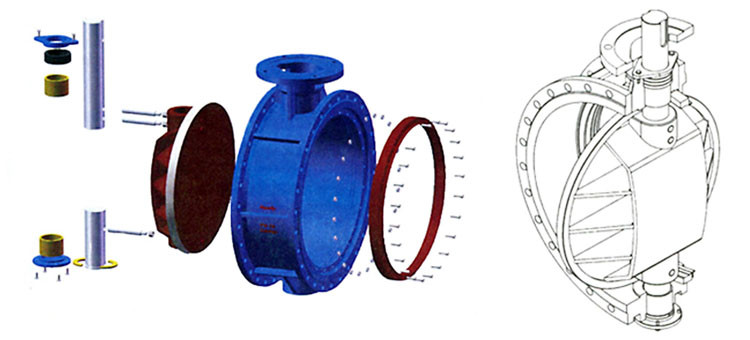 1 valve can achieve bi-directional zero leakage (when both direction withstand 1.1 times the rated nominal pressure), adopts eccentric disc, floating seat, between valve core rotation center and valve seat installation center, there is a eccentricity δ( see picture below), after the valve is fully closed, if the valve close a small angle more (such as 0.5 °), the valve seat sealing surface and valve core sphere will produce interference, which means there will be a great extrusion force between the two sealing surfaces, to form high sealing pressure ratio, achieving strict sealing in high-pressure working conditions.
Valve eccentricity δ is determined by a rigorous theoretical calculation (hydraulic calculation, eccentric shaft bending stiffness, torsional stiffness calculation the spherical crown and the valve seat deformation calculation) and not less than 20 tests. It can meet the requirement of bi-direction sealing.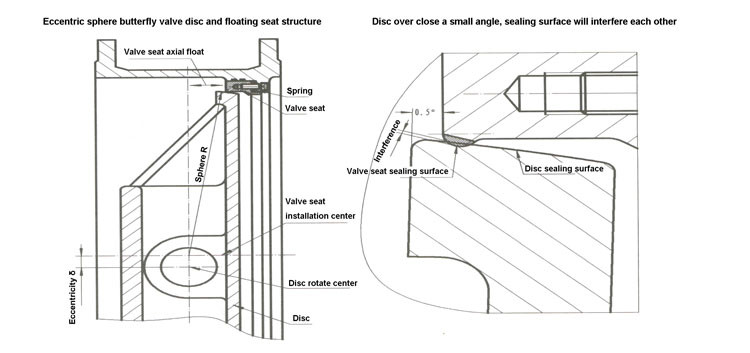 2. Sealing surface will not wear, will not stuck or strained
Due to the eccentric sphere structure and eccentricity take full account of fluid .hydraulic characteristics and mechanics of material, when valve is opening, valve core turns a tiny angle (such as 0.5 °), valve core and valve seat will be separated. When the valve is closing, valve core and valve seat contacts each other at the last moment, thereby reduces abrasion.
Sealing surfaces are line contact, the extrusion stress of contact point directs to eccentric sphere core, the valve disc is without wrapped force, the valve disc will not be stuck. The valve seat can be axial floating, the floating distance is enough to compensate for valve disc deformation under hydrostatic pressure, temperature stress, installation stress, so the sealing pressure ratio between the seal surface is basically a constant value, the sealing surface does not produce occlusion and strain phenomenon.

3. Sealing surface has the function of self cleaning.
For the fouling, weeds, sticks and wire and other dirt attached on sealing surface, every time when valve is closing, they will be cut off.

4 Material and technological characteristics
Valve seat sealing surface overlayed pure nickel, heat-treated surface hardness is HRC43-47 after heat-treatment, hard sealing valve disc sealing surface overlayed Stellite. Surface hardness is HRC51-55. Both hardness with a reasonable matching, good sealing running-in ability.
Soft sealing valve disc is fully coated(Below DN500) or partly coated(above DN500) with NBR. Rubber adopts Exxon's raw materials, vulcanized with disc. Rubber strength is no less than 17.6MPa, rubber and disc adhesive strength is no less than 14MPa.
Valve shaft sealing packing adopts flexible graphite. Packing replacement could be done without removing valve from the pipeline, without disassembling actuator, and with pressure.