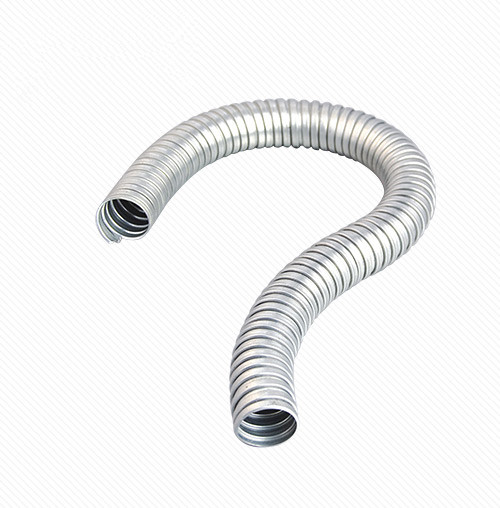 Electrical cable wire galvanized steel flexible corrugated conduit (P4 Type)
Item specifics
Type

P4 double locked flexible conduit
Locked type

Interlock
Surface treated

Hot dip galvanized
Packaging

10m/roll, 30m/roll, 50m/roll, 100m/roll, 200m/roll and depend on your requirement.
Feature

Interlocked for more strength
Working Temperature

-10C to 70C
Description
Galvanized Steel Flexible Conduit (P4 Type)
We provide acomprehensive range of Galvanized Steel Flexible Conduit, which is designed inorder to provide mechanical strength and higher flexibility. These helicallywound flexible conduits in galvanized steel are appreciated for features suchas corrosion resistance, durability, and high functional life. We offer theseconduits in natural as well as in zinc finish.Corrugated Bare Metal Conduits are highlyflexible and have an angular profile. Their robustconstruction makes them resistant to high mechanicalstresses. These also have high impact resistance.These conduits offer IP50 protection when combinedwith appropriate Controlwell conduit glands.
Application Areas:
Bathroom fittings andinteriors
Areas subject to heatand sparks (foundries, welding, etc)
Used as mechanicalprotection for insulated electrical cables and wires that are functional innormal atmospheric temperature
Under floorapplications for computer/floor boxes
For furnace/ovenapplications
Used for connectingmachines to controls
Specifications:
High mechanicalstrength
Highly flexible
Temperature range:-100°C to +300°C
IP rating: IP40 withstandard fittings
Inherent low firehazard product
Flexible conduit Applications:
Steel Flexible Conduit offered by us is used for mechanical protection of cables and wires in
tunnels, hospitals, high-rise office blocks and public buildings, airlines, underground and other places.
Further, these are also used for tight-spot installation and in places where water tightness is required.
Galvanized steel

Silver

-10-- 100

1. It has excellent performance of waterproof, insulation and tensile property.
2. The counter-lock structure provide a powerful tensile resistance, hard to break and deform
3. High flexibility

Power plant, Power transmission system, communication system, building factory, railway, train, transportation system project, air conditioner, various machines, automates controlling plant. And protecting the electrical wire or cable outside the construction and plant.

Inserting the wire or cable into the conduit and the equipped with matched connector.
lexible Conduit,Flexible Conduit,Flexible Conduit
Size: 1/4", 5/16", 3/8", 1/2", 3/4", 1", 1-1/4", 1-1/2", 2", 2-1/2", 3", 4"
SIZE

STRUCTURE

I.D

O.D

PACKING

Meter/Roll

Weight

Volume

1/4"

inner locked

7.7-8

11-11.8

100

0.15

0.8

5/16"

inner locked

9.7-10

12.8-13.5

100

0.18

0.9

3/8"

inner locked

12.3-12.8

17.5-18

50

0.27

1.05

1/2"

inner locked

15.8-16.3

20.8-21.3

50

0.33

1.5

3/4"

inner locked

20.8-21.3

26.1-26.7

30

0.45

1.47

1"

inner locked

26.3-27

32.8-33.4

30

0.63

2.16

1-1/4"

inner locked

34.8-35.5

41.4-42.2

20

0.95

3.09

1-1/2"

inner locked

39.8-40.5

47.4-48.3

20

1.33

3.71

2"

inner locked

50.8-51.5

59.4-60.3

10

1.7

4.28

2-1/2"

inner locked

63.5-64.3

72.1-73

10

1.95

3.54

3"

inner locked

78.6-79.3

87.5-88.5

10

3.1

5.12

4"

inner locked

100.6-101.6

111.5-112.5

5

4.2

8.34