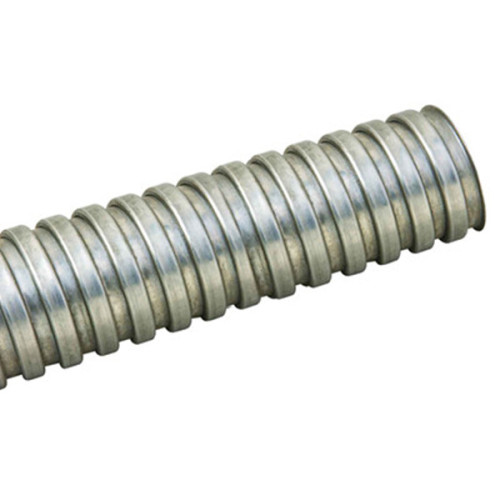 Galvanized Steel Flexible Conduit (P3 Type)
Item specifics
Feature

High tensile, strong vandalism
Available Sizes

3/8
Conduit barrier temperature

-10°-70°
Description
Galvanized Steel Flexible Conduit (P3 Type)

We provide a comprehensive range of Galvanized Steel Flexible Conduit, which is designed in order to provide mechanical strength and higher flexibility. These helically wound flexible conduits in galvanized steel are appreciated for features such as corrosion resistance, durability, and high functional life. We offer these conduits in natural as well as in zinc finish.

Galvanized Steel Flexible Conduit Features:
Corrugated Bare Metal Conduits are highly flexible and have an angular profile. Their robust construction makes them resistant to high mechanical stresses. These also have high impact resistance. These conduits offer IP54 protection when combined with appropriate Controlwell conduit glands.

1. Superior flexible, smooth, easy for installation and position. The smooth internal surface, easy to pull wire through, various assorted fittings for convenient installation.
2. High tensile resistant, strong vandalism resistant and strong corrosion resistant, Temperature-resistant, resistant to high temperature chips.
3. Turn-over locked structure to increase strength resistant, hard to break or distort.
4. Reasonable construction, stable performance and superior electrical performance.
5. Can be installed directly, do not need preset tube or wire.
6. Can add PVC coating or wire braiding on the flexible metal conduit to achieve function of waterproof and explosion proof, also supply various connectors and junction boxes for the option of customers.
Application Areas:
Bathroomfittings and interiors
Areassubject to heat and sparks (foundries, welding, etc)
Used asmechanical protection for insulated electrical cables and wires that arefunctional in normal atmospheric temperature
Under floorapplications for computer/floor boxes
Forfurnace/oven applications
Used for connecting machines to controls

Specifications:
Highmechanical strength
Highlyflexible
Temperaturerange: -100°C to +300°C
IP rating:IP40 with standard fittings
Inherent low fire hazard product

Specification 1:

| | | | | | |
| --- | --- | --- | --- | --- | --- |
| Cat.# | Size | Internal Diameter (mm) | External Diameter (mm) | Min. Bend Radiuce (mm) | Coil Packing (m) |
| JS-101 | 3/8" | 10 | 13 | 30 | 50 |
| JS-102 | 1/2" | 13 | 17 | 30 | 50 |
| JS-103 | 5/8" | 16 | 19 | 43 | 50 |
| JS-104 | 3/4" | 19 | 23 | 50 | 50 |
| JS-105 | 1" | 25 | 29 | 57 | 50 |
| JS-106 | 1¼" | 32 | 36 | 70 | 50 |
| JS-107 | 1½" | 38 | 43 | 80 | 25 |
| JS-108 | 2" | 50 | 55 | 95 | 25 |
| JS-109 | 2½"" | 63 | 70 | 140 | 15 |
| JS-110 | 3" | 78 | 85 | 150 | 10 |
| JS-111 | 4" | 101 | 109 | 190 | 10 |
| | | | | | |
| --- | --- | --- | --- | --- | --- |
| Cat.# | Size | Internal Diameter (mm) | External Diameter (mm) | Min. Bend Radiuce (mm) | Coil Packing (m) |
| JS-016 | 16 mm | 10 | 13 | 30 | 50 |
| JS-020 | 20 mm | 17 | 20 | 30 | 25 |
| JS-025 | 25 mm | 21 | 24 | 43 | 25 |
| JS-032 | 32 mm | 28 | 32 | 50 | 20 |
| JS-040 | 40 mm | 35 | 40 | 57 | 15 |
| JS-050 | 50 mm | 45 | 50 | 70 | 10 |
Cat.#

Size

Internal Diameter Min. / Max.
(mm)

External Diameter Min. / Max.
(mm)

Min. Bend Radiuce (mm)

Coil Packing (m)

JS-PG7

PG7

9.2/9.5

12.6/12.9

30

50

JS-PG 9

PG 9

10.6/10.9

14.0/14.3

35

50

JS-PG11

PG11

13.6/13.9

16.8/17.1

38

50

JS-PG13

PG13

15.6/15.9

19.5/19.8

40

50

JS-PG16

PG16

17.3/17.6

21.4/21.7

45

50

JS-PG21

PG21

22.7/27.6

27.3/27.6

50

25

JS-PG29

PG29

30.8/31.2

35.9/36.2

58

25

JS-PG36

PG36

39.5/39.9

46.0/46.2

90

25

JS-PG48

PG48

51.0/51.4

57.4/57.8

100

25