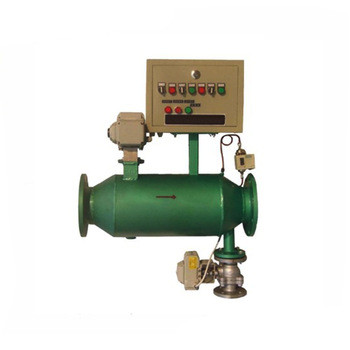 DZPG-L Electric actuator water strainer automatic back flushing filter
Description
DZPG-L Electric Automatic Back Flush Strainer is composed of shell, stainless steel mesh, impurity collection section, electric butterfly valve(Draining port), electric current pilot valve, actuator and electric cabinet.This strainer has the function of timing Settings, back flush time can be set according to the quality of medium and pipeline network system requirement. Timed automatic back flush filtration, draining, and washing are done with electric actuator. Draining is done online, without stopping system.
This strainer is suitable for hot water heating system, air conditioning cold water system, cooling system, water system, process water system, as well as industrial cooling water system, especially suitable for 24 hours non stop system.
Features
1 Local controlling or remote controlling are available. Easy to operate and manage, high filter speed, easy to wash, strong back flush.
2 Periodical filtration, draining, back flush, washing can be done automatically while the whole system is working continuously.
3 The strainer can be automatically controlled, and also can be manually controlled.
4 There are working status, washing status and failure status indication and signal output in electric cabinet, easy to operate.
5 High voltage power circuit, high voltage control circuit and low voltage control circuit are set in electric cabinet separately, to avoid mutual interference, easy to maintain and repair.
6 Fault alarm is installed in electric cabinet.
7 Draining, back flush time are adjustable. Draining rate is less than 10% of regular flow rate
8 No other pipeline need, no need to disassemble or replace filer mesh, service life could be 20 years.