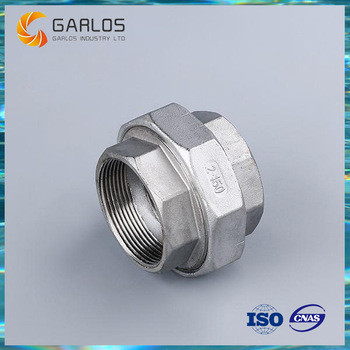 Two way Male threaded joint Pipe Fittings Union connector
Item specifics
Size:

1/8-4"
Medium:

oil,water,gas,
Material:

stainless steel
Application:

Connect Pipes
Description
U-SS-04 Two way Male threaded joint Pipe Fittings Union connector
A pipe fittings union, similar to a coupling, allows the convenient disconnection of pipes for maintenance or fixture replacement. Although a coupling requires solvent welding, soldering or rotation (threaded couplings), a union allows easy connection and disconnection. It consists of three parts: a nut, a female end and a male end. When the female and male ends are joined, the nut seals the joint. Unions are a type of flange connector.
Dielectric unions, with dielectric insulation, separate dissimilar metals (such as copper and galvanized steel) to prevent galvanic corrosion. When two dissimilar metals are in contact with an electrically-conductive solution (tap water is conductive), they form a battery generating a voltage by electrolysis. When the metals are in direct contact with each other, the electric current from one to the other moves ions from one to the other; this dissolves one metal, depositing it on the other. A dielectric union breaks the electrical path with a plastic liner between its halves, limiting galvanic corrosion. Rotary unions allow rotation of one of the joined parts.

U-SS-04 Two way Male threaded joint Pipe Fittings Union connector

4 Way Female Threaded Cross Fitting
3-Way Female Threaded Tee
M & F Threaded 90 Degree Elbow
Double Threaded End Pipe Nipple
30 years working in Valves
Our new base covers an area of 60 acres, the main production plant 10,000 square meters, office support facilities nearly 5,000 square meters, a large vertical lathe and CNC machine tools and other testing equipment.

International sales and service team
Over 20 international services working for you with SOP.
We are not only sale products, we are doing market solution for you.Pipe Coupling