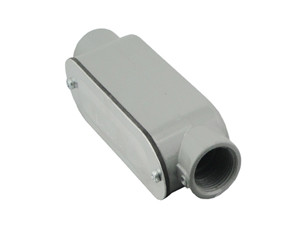 EMT Conduit Body With Cover and Gasket
Item specifics
Product Name

EMT Conduit Body With Cover and Gasket
Material

Aluminum
Technics

Casting
Type

C Conduit Body
Description
EMT Conduit Body With Cover and Gasket

Conduit bodies, covers and gaskets provide access to conductors for pulling, splicing, maintenance, and future changes and upgrades. They allow connection of straight conduit runs, branch conduit runs and 90° bends. Covers and gaskets can be ordered separately, or the conduit bodies, covers and gaskets can be ordered as a complete assembly.
In addition to the threaded type, set screw bodies are available for use with EMT conduit. Covers and gaskets must be ordered separately for set screw conduit bodies.
Applications:

Serve as pulling fittings

Make bends in conduit system

Provide openings for splicing

Connect and change direction of conduit runs

Allow connections for branch runs

Permit access to conductors for maintenance
Features:

Copperfree aluminum bodies with aluminum enamel finish

Set screw type has slotted hex head steel hardened cup-point set screw for EMT

Domed copperfree aluminum cover with stainless steel screws

Closed-cell neoprene gasket

Tapered threaded hubs (NPT) or set screw design

Threaded style is raintight when used with casketed covers

Internal volume and maximum wire capacity clearly marked on castings
C type conduit body:
1) Aluminum die cast,Perfect Powder Coat
2) LL LR LB C T
3) 1/2" to 4", UL 514B
4) Factory, good quality&prices
5) Threaded type / set-screw type
6) Standard reference: UL 514B
7) Sizes: 1/2", 3/4", 1", 1-1/4", 1-1/2", 2", 2-1/2", 3", 3-1/2", 4".
8) we have thread LL/LB/LR/C/T type for IMC/RMC conduit
9) We also have ELL/ELB/ELR/ET/EC for emt conduit
Specification: