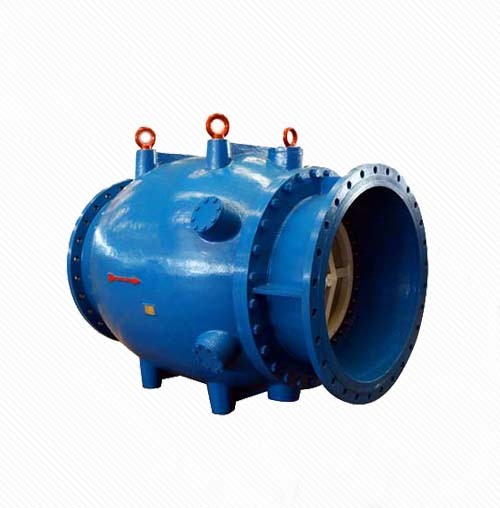 HS Series Cast Iron Motorized Water Flow Control Plunger Valve
Item specifics
Flow path

Straight
Sealing

Metal-metal/ Metal-rubber
End connection

Flange
Actuator

Manual/ Electric
Description
1 Pressure reducing
Pressure reducing range is large, single stage valve can reduce pressure from 6.3MPa to 1.0 MPa, no cavitation, no running noise. In the high water head hydropower station, water from the pressure pipe, can be supplied to low-pressure water supply system after the pressure reducing of this valve.
2 Reservoir water level regulation and sand washing
When discharged into the atmosphere, the water stream first shrinks and then diffuses at a wide cone angle and breaks down into a thin sprayed state. If suppression of water flow is required, a beam device may be installed, which not only mixes air and water but also concentrates the flow.

3 Pressure relief,
It can be used as large water turbine bypass pipe discharge valve. When water turbine has a accident, the main valve is closed, piston type control valve will open automatically to eliminate the harm of the water hammer to the system.

4 Flow control and cut-off
In the fully open to fully closed stroke, the valve flow coefficient and valve opening have linear relationship. Even in the fully closed to 10% opening stroke, still has a good flow control effect. The valve can also cut off the flow channel, play the role of gate valve, globe valve and so on, with good sealing performance.


| | | | | | |
| --- | --- | --- | --- | --- | --- |
| S.N. | Name | Material | S.N. | Name | Material |
| 1 | Front valve body | Ductile iron QT450-12 | 10 | Crankshaft | Stainless steel 2Cr13 |
| 2 | Fluid director | Stainless steel 316L | 11 | Shear pin | Stainless steel 316L |
| 3 | Back valve body | Ductile iron QT450-12,sealing surface overlaying hard alloy CoCrW | 12 | Drive shaft | Stainless steel 316L |
| 4 | Plunger guide rail | Bronze QSn6.5-0.1 | 13 | Drive bearing | Bronze QSn6.5-0.1 |
| 5 | Connecting base | Stainless steel 2Cr13 | 14 | End bearing | Bronze QSn6.5-0.1 |
| 6 | Crankshaft support | Stainless steel 2Cr13 | 15 | Seal ring set | Bronze QSn6.5-0.1 |
| 7 | Plunger pin | Stainless steel 316L | 16 | Sealing element | NBR |
| 8 | Connecting rod | Stainless steel 2Cr13 | 17 | Fastener | Stainless steel A2-70 |
| 9 | Plunger | Stainless steel 316L | | | |
1 The open-close part is a piston-shaped cylinder. When the valve is closed, the open-close part is not affected by the medium blanking force, and the opening torque is very small (only 1 / 3-1 / 5 of the ordinary gate valve, butterfly valve and so on).
2 The open-close part is doing' linear motion driven by crank-slider mechanism, the relationship of valve flow coefficient and the valve open degree is approximately linear function

3 Fluid flows into valve via spindle-shaped fluid director, in any position Within the valve flow channel cross-section is low channel shape are circular ring. Compared with the traditional valve, the piston valve flow path is smooth, the fluid at any opening degree has no sharp turn, so the valve can be used in any operating conditions (such as high pressure difference without back pressure, high flow conditions), the valve works without cavitation and running noise.

4 At the valve outlet, the fluid direction and pressure changes, the fluid will appear cavitation, flashing phenomenon, small high-pressure steam bubble will be formed, if the bubbles attached to the valve or outlet pipe wall and rupture, will produce very high instantaneous impact energy, which will have strong destructive effect to valve and pipe. It is commonly known as cavitation. Piston valve using a spiral blades or squirrel cage fluid deflector, the bubble concentrated in the central part of the fluid and ruptures, greatly reducing the cavitation hazard.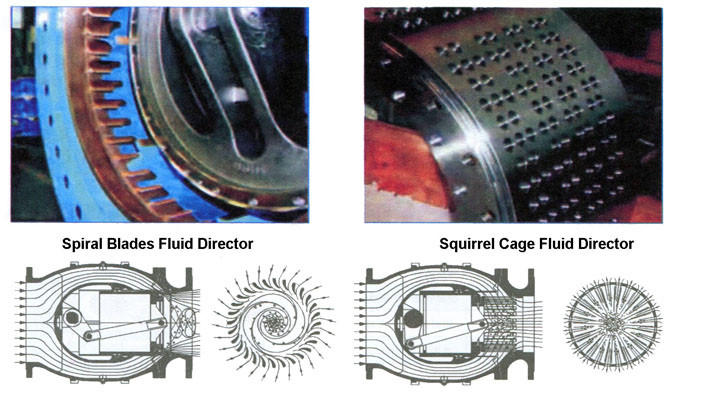 5 Metal to metal and metal to rubber double sealing.


DN

Boundary

Dimension

Connection Size

PN40

PN63

PN10

L

B

Hmax

D

D1

n-d

b

D

D1

n-d

b

D

D1

n-d

b

100

325

210

190

235

190

8-23

19

250

200

8-27

30

265

210

8-30

36

125

325

240

230

270

220

8-27

23.5

295

240

8-31

34

315

250

8-33

40

150

350

380

270

300

250

8-27

26

345

280

8-33

36

355

290

12-33

44

200

400

420

390

375

320

12-31

30

415

345

12-37

42

430

360

12-36

52

250

500

490

475

450

385

12-34

34.5

470

400

12-37

46

505

430

12-39

60

300

600

540

550

515

450

16-34

39.5

530

460

16-37

52

585

500

16-42

68

350

700

660

590

580

510

16-37

44

600

525

16-39

56

655

560

16-48

74

400

800

815

620

440

585

16-40

48

670

585

16-43

60

715

620

16-48

82

450

900

965

720

685

610

20-40

49

500

1050

1060

790

755

670

20-43

52

600

1175

1260

875

890

795

20-49

58

700

1320

1350

1040

995

900

24-48

68

800

1480

1515

1270

1140

1030

24-57

76