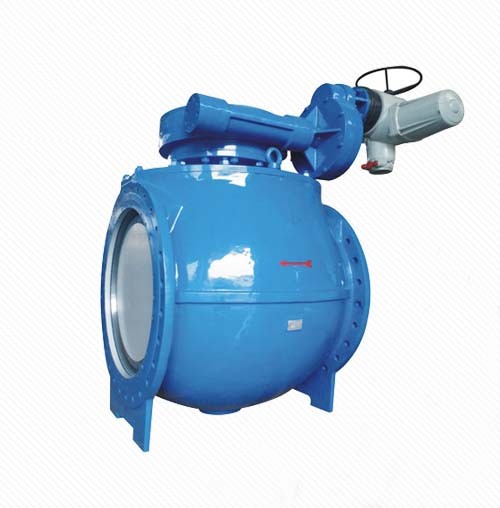 2PQ Double Circular Sector Offset Metal Seal Semi half Ball Valve
Item specifics
End connection

Flange
Flow path

Straight
Actuator

Hydraulic/ Electric/ Worm gear
Pressure

0.6-2.5MPa
Sealing

Metal Seal
Description
This valve is used in systems where bi-direction seal is required. When the valve is closed,the medium can be cut off reliably, so that the two-way zero leakage.Particularly suitable for the following work environment:
1, Water system which requires strict bi-directionclosing.
2, Medium which contains a lot of dust, sediment,weeds, garbage and other dirt
3, Working environment with high flow rate ishigh, easy to produce cavitation damage
4, Can be used as water seal ball valve for blastfurnace gas and other systems, play the role of goggle valve and slide valve

1.Built with two sets eccentric sealing surface
When the valve is closed, the pressure components on the valve plate will produce elastic deformation under the action of fluid pressure. Valve design principle is that generally direct the deformation direction to the sealing direction, that is, the greater pressure of the fluid is, the greater sealing pressure ratio is, the tighter the valve seals. If the valve is subjected to a reverse pressure, the pressure components will be deformed away from the sealing surface, and the seal will fail. Double sealing eccentric ball valve has two sets of eccentric sealing surface, whether the valve withstands forward or reverse pressure, the deformation of pressure components will always work on one sealing surface, Therefore, this valve is particularly suitable for systems that require bi-direction strict closing.
Two sets of sealing surface are eccentric structure: There is eccentricity between valve core rotation center and sealing surface center line, the valve is closing, the valve will be closed more and more tighter, when valve core turned a small angle, sealing surfaces will quickly disengage, sealing surfaces will not wear, service life is long.
Sealing surface can easily cut off weeds, branches and other fibrous or rod-shaped debris, dust, sediment, scale and other dirt which deposited in the sealing surface. Each time the valve is opened or closed, the sealing surface can be self-cleaned.

2,Adopts full bore straight structure flow path, when valve is fully open, valve flow path is equal to a full diameter straight pipe, flow rate is high, suitable for working environment with high flow rate and easy to produce cavitation damage, flow resistance is small, can save a lot of energy.
3,Double sealing surface eccentric ball valve has a simple structure and does not need maintenance when working. When inspection and repairing, the valve does not need to be removed from the pipeline, just open the bonnet, you can remove valve core, sealing surface from the valve body. Sealing surface and packing can be replaced with pressure.
4,Can be used as water seal gas cut-off valve (or other flammable, explosive, toxic gas shut-off valve)
In the steel gas system, normally need to use valve to cut off the pipeline, requiring the valve outlet gas leakage is absolutely zero, to ensure safety. Generally, goggle valve or slide valve will be used. Goggle valve and slide valve have two major shortcomings First, need to release clamping mechanism when opening and closing, gas leakage may occur,have strict requirement for site protection Second, the valve is bulky and heavy, take up large space, when opening and closing, the operating procedures is complex.
5,When double sealing surface eccentric semi ball valve works as a gas cut-off valve, we only need to install DN50 water valves at both the top and the bottom. After gas cut-off valve closed, fill tap water into valve chamber via water valves (Pressure should be more than 0.5MPa), water sealing will be formed in valve chamber. When there is few gas leakage in valve inlet, gas will dissolve into the water. Even if the valve is closed for a long time, the gas leaked into the valve chamber is more, because the gas density is much smaller than water, it can only accumulate in the water at the top, never break through the water seal. So leakage of the gas cut-off valve is zero. Before opening gas cut off valve, open water valve to discharge the water in valve chamber firstly, small amount of gas can be discharged together with water. Valve core turns 90 0 to complete opening or closing, simple and quick operation.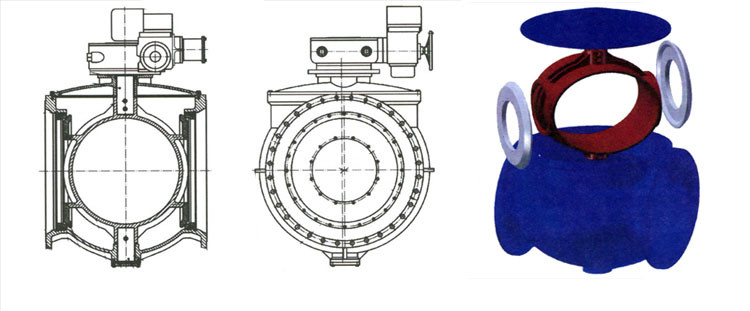 Work As Water Seal Gas Cut-off Valve: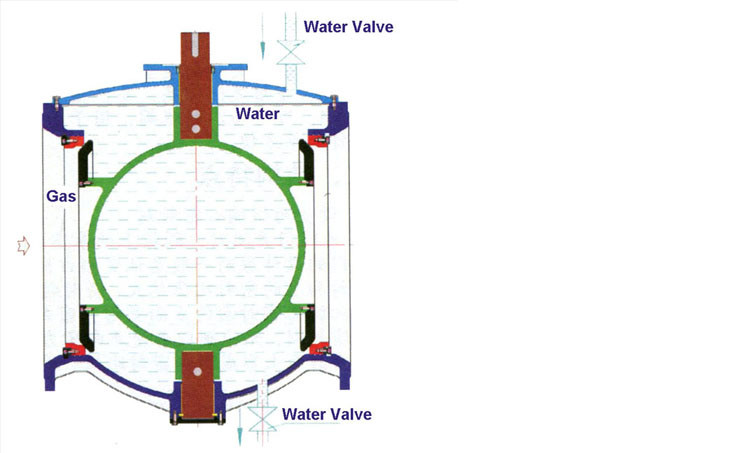 | | | |
| --- | --- | --- |
| S.N. | Name | Material |
| 1 | Valve Body | Ductile iron(QT450-12) or cast steel (ZG230-450) |
| 2 | Valve Seat | Ductile iron(QT450-12) surfacing hard alloy(CrCoW) |
| 3 | Ball Crown | Stainless steel 316L |
| 4 | Valve Core | Ductile iron(QT450-12) or cast steel (Q235) |
| 5 | Plane Bearing | Bronze(QSn6.5-0.1) |
| 6 | Lower Shaft | Stainless steel 2Cr13 |
| 7 | Bottom Covver | Ductile iron QT450-12 |
| 8 | Shaft Sleeve | Bronze(QSn6.5-0.1) |
| 9 | Bonnet | Ductile iron(QT450-12) or cast steel (ZG230-450) |
| 10 | Upper Shaft | Stainless steel 2Cr13 |
| 11 | Packing | NBR |
| 12 | Shear Pin | Stainless steel 316L |
| 13 | Fastener | Stainless steel A2-70 |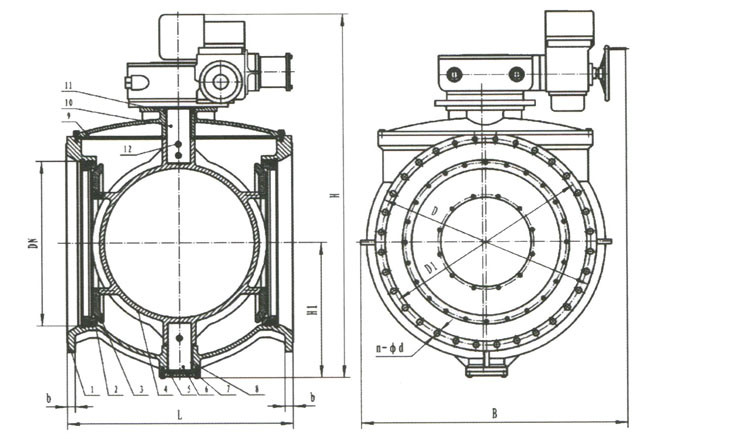 DN

Boundary

Dimension

Connection Dimension

PN0.6

PN1.0

PN1.6

PN2.5

L

H1

H2

B

D

D1

n-Φd

b

D

D1

n-Φd

b

D

D1

n-Φd

b

D

D1

n-Φd

b

400

500

300

700

520

540

495

16-23

28

565

515

16-28

32

560

525

16-31

30

600

540

16-30

36

450

560

336

780

585

595

550

16-23

28

615

565

20-28

32

640

585

20-31

32

635

578

16-33

40

500

625

375

875

650

645

600

20-23

30

670

620

20-28

34

715

650

20-34

36

700

635

20-33

43

600

750

450

980

780

755

705

20-26

30

780

725

20-30

34

840

770

20-36

38

845

770

20-39

48

700

875

520

1220

890

860

810

24-26

32

895

840

24-30

34

910

840

24-36

40

960

875

24-42

50

800

1000

600

1370

1020

975

920

24-31

34

1015

950

24-33

36

1025

950

24-39

42

1085

990

24-48

54

900

1120

675

1530

1130

1075

1020

24-31

36

1115

1050

28-33

38

1125

1050

28-39

44

1185

1090

28-48

58

1000

1250

750

1740

1300

1175

1120

28-31

36

1230

1160

8-33

38

1255

1170

28-42

46

1320

1210

28-55

62

1200

1500

900

2100

1650

1405

1340

32-34

40

1455

1380

32-39

44

1485

1390

32-48

52

1530

1420

32-55

70

1400

1750

1020

2450

1800

1630

1560

36-37

44

1675

1590

35-42

48

1685

1590

36-48

58

1600

2000

1200

2670

1990

1830

1760

40-37

48

1915

1820

40-48

52

1930

1820

40-55

64

1800

2250

1350

3020

2310

2045

1970

44-40

50

2115

2020

44-48

56

2130

2020

44-55

68

2000

2450

1480

3250

2600

2265

2180

48-43

54

2323

2230

48-48

60

2345

220

48-60

70

2200

2700

1520

3520

2800

2475

2390

52-43

60

2550

2440

52-52

64

2400

2900

1700

3760

3100

2685

2600

56-43

62

2760

2650

56-56

66

2600

3200

1860

4010

3300

2905

2810

60-49

64

3000

3500

2070

4500

3780

3315

3220

68-49

70